Chris Jenkins joined the Marine Discovery Center's corps of volunteers last November, but the retired firefighter/EMT has already made a difference with his various duties at the center.
You may find him power-washing out back, or leading guests through the exhibits, or guiding kids in the techniques of fishing at camp, or feeding Eco the corn snake, or taking apart rods and reels and cleaning them for the next camp fishing trip. Whatever the task, he has jumped in to assist wherever he is needed.
​Read more about Chris in MDC's March 2021 Volunteer Spotlight interview with staff writer Lisa Mickey:
Q: Where did you grow up?
A: I was born and raised in St. Petersburg, Fla., just south of Tampa. I lived there for about 30 years and then I moved to Hernando County, which is north of Tampa. I lived there for about 11 years. After that, I bounced around through Central Florida until we moved to New Smyrna Beach last March.
Q: What made you go from west to east — from the Gulf coast to the Atlantic?
A: We went from side to side, stopping in the middle. The fire departments where I worked were always based around Central Florida, so I tried to live within 1½ hours of driving distance. We tried living in the city and in the country, so the beach was the last place we tried. We were coming over here to visit and vacation for the last 15 years, so we finally ended up moving here.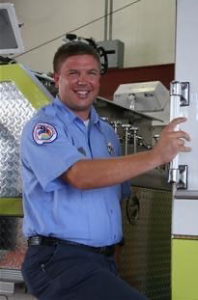 Q: Were you a firefighter during all of that time?
A: Yes, for 25 years. I started out at Madeira Beach in Pinellas County and moved to Pasco Fire & Rescue and worked for the City of New Port Richey for a while before moving over to Reedy Creek, which is the governmental agency for Disney World. I was there for 17 years.
Q: That must have been interesting to be a Disney firefighter.
A: It's definitely another world over there. You're not responding to a regular home with an address and cross-streets. You're responding to places like the turkey leg cart at the Magic Kingdom.
Q: What was the most surreal thing you did while working there?
A: We got pretty much every kind of medical call you can think of, such as trauma, shortness of breath, overheating. We handle evacuations on the monorail trains or anything dangling from the air, but that's a last resort. Disney mostly likes to get things moving again. Once, I had a Disney character get whiplash while wearing a costume head. We can't take the head off, so we had to transport the individual to the hospital on a stretcher wearing the [costume] head. It was Eeyore, the donkey from Winnie the Pooh.
Q: How did you become a firefighter?
A: I started working on a degree in criminal justice at St. Petersburg College, but before I finished it, I did a ride-along with the St. Pete Police Department and asked to go to the worst area they serve. I figured that's probably where I would end up as a new guy. After that ride, I learned real quick this was not what I wanted to do for a living, so I applied for the fire academy. They weren't taking applications at the time, so I worked a handful of different jobs from 1991-1996 until I could go to the fire academy. I'm a hard worker, but there are some places where you just fit in. As soon as I got into school for the fire academy and volunteered at the Madeira Beach Fire Department, I knew the first time I got on the truck to go out for a call, it just felt right. I knew that's where I wanted to be.
Q: Where did you go from there?
A: I continued to volunteer at Madeira Beach until I was hired by the fire department in New Port Richey. During that time, I also worked part-time in the ambulance service for Pasco County and had another job. I was in my first marriage at the time. I was pretty busy. I thought that was going to be it in Pasco County. There were many nights there when we didn't sleep at all because it's so busy. One of the stations called themselves the Sleepless Knights because nobody slept for 24 hours. It's a retirement community with a lot of nursing homes. When you work for fire departments like that, you also are cross-trained as an EMT or a paramedic. Remember, nobody calls us when they are having a good day!
Q: Are you still working?
A: No, I have retired due to injury. That's why I retired from the fire department at Disney in November 2019. Two weeks before Thanksgiving, I was in a training accident and broke my back in three places. I'm lucky to be up, moving, walking and doing the things I'm doing. I have medical cement in three places in my back that was used to fill the vertebrae that collapsed. I was down for a few months and medically, I had to leave firefighting. Even after I moved here a year ago, I still couldn't walk or stand for very long. It's been quite a road back.
Q: That must have been hard for your career to end like that.
A: Very hard. It's been a whole boat full of emotions. When you do something for almost 25 years and you're with your colleagues every third day for 24 hours, then all of sudden it's gone, that's really tough. It's even hard for firefighters who retire the normal way and they know it's coming. In my case, I had no idea that was coming. I had 6½ years left to work, and then it was over when I was 47 years old. Once I was hurt, I knew I wasn't going back to work as a firefighter. I am licensed through the state as a fire inspector and I could do that, but at the time I lost my job, COVID-19 had shut down a lot of things, so I wasn't brought back to do fire inspections. We didn't really have a plan, but that's how we ended up here.
Q: It was an interesting chain of events.
A: I honestly believe that everything happens for a reason. There was nothing holding us back from moving here from east Orlando. My wife Rebecca works in [real estate] titles and sets up the paperwork, so she could move. One thing led to another and by March 2020, we were here. The week before we moved in, the state went into lockdown. We were trying to move and work on the house before we moved in. The COVID restrictions — combined with me being injured — has been very interesting. I can go back to work doing something – just not as a firefighter.
Q: Do you have children?
A: Yes, we have three adult daughters in their 20s and a 12-year-old son at home. He's in the sixth grade over at Burns Science and Technology Charter School in Oak Hill.
Q: How did you get involved at MDC?
A: We had come to New Smyrna to visit for a long time, but I never knew about MDC until we moved here last March. We found MDC online, so we came here for a private feeding of the exhibit animals with Heather [Gilder]. Our 12-year-old son was with us and COVID was going on, so we were wearing masks. I started talking with Heather and we learned that both of us had worked at Disney. Before I left, she suggested that I reach out to Traci [Trusler] to learn more about volunteering at MDC. I had to wait for about six months for my back to feel better and then I came to the volunteer orientation, was completely blown away by all the different things going on at MDC and got involved. I'm 49, a native Floridian and I didn't even know about half of this stuff. I was amazed at how much goes on here and all the different projects volunteers are involved in.
Q: So, when did you get started at MDC and volunteering to do what?
A: I got started as soon as my background checks were approved. The first thing I did was I helped Michelle with the three-day Thanksgiving Camp last fall. When I took the kids in camp fishing, that's when I really got hooked on this. I liked helping them out and watching their excitement when they caught a fish.
Q: In what other areas have you volunteered?
A: The education camps are ongoing. I've started working on MDC's fishing rods. I take them apart, clean them and oil the reels because if you take care of things, they will last a long time. I'll be involved with MDC's Costa Fishing Camps in June. I've also begun volunteering in the microplastics program and I just started helping in the Welcome area, leading guests through the exhibits so the volunteers at the Welcome Desk aren't overwhelmed. I've been studying the materials to learn about what we have in our exhibits. On Mondays, I feed and clean the areas for Eco [the corn snake], Sea Star [the box turtle] and Biscuit [the gopher tortoise]. And I've also started volunteering with the S.W.A.T. team — helping take care of the MDC grounds, although I'm limited with lifting.
Q: What do you enjoy about volunteering at MDC?
A: Everybody here is so nice and accepting. Honestly, I don't even know what I would do right now if this weren't here. You can only fish so much! I'd had a routine in my life, a pattern, and then it all came to a stop and now I was home every day. It's hard to get used to, so coming in here and feeling useful and needed is a good thing. When you work at Disney World, you have to be a people-person. I always enjoyed meeting people from all over the country and all over the world. And now at MDC, I can pick right up from where I left off at Disney. We have guests from everywhere.
Q: Is there any area at MDC in which you want to get more involved?
A: I'd like to be involved in one of the restorations, but I have to be careful because of lifting restrictions. Maybe I can help with planting. I want to try a little bit of everything at MDC so I can be called to help fill in when needed. I want to learn as much as I can and get involved. The group of people here who care is what attracted me to this place. Even though there are a lot of different focus areas, everybody here has the same objectives when it comes to the environment. That provides a lot of different avenues to pursue as a volunteer.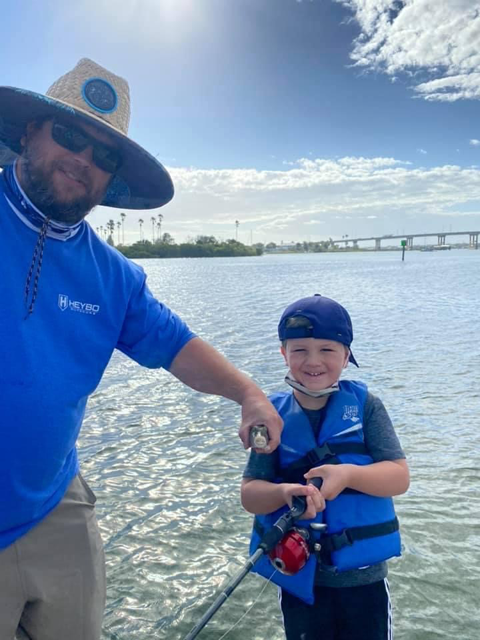 Q: What has been the highlight of volunteering at MDC?
A: Probably, fishing with the kids at camp. Fishing with my dad and my grandfather was always a big deal for me when I was a kid. I still fish with my son, but this is a way for me to continue being involved with fishing and to share with the campers what I know. I'm also learning a lot of new stuff. When I came here, I knew nothing. Now, every day I come here, I learn something. I'm nearly 50 years old and have lived here all of my life and didn't even know that sea horses can be found right out there in the lagoon.
Q: How do you feel about contributing to MDC's mission in the community?
A: I'm excited about the changes in the education class room and setting it up for the future. The opportunity to grow here is just awesome. This is a whole other environment for me to step into from the outside. To be honest, I was nervous as heck during that first camp where I helped. It's different when they're not your kids, but the kids at MDC want to be here and that makes a lot of difference. They're interested and get excited when we're doing things. I'm glad people are getting their kids outdoors.
Q: Why is volunteering important to you?
A: When my wife and I were still living over in Orlando, there were three Ronald McDonald Houses attached to the three major children's hospitals in the area. Every month, we would go to one of them and make dinner for the families staying there. That meant a lot to us to do that — to be able to give back. Our son had to stay in a St. Petersburg hospital for a week when he was a lot younger. He had a very serious infection called RSV [respiratory syncytial virus] and he had to take strong antibiotics. We stayed in a Ronald McDonald House during his treatment. So, when we moved to the Orlando area, I mentioned to my wife there were Ronald McDonald Houses there. We always talked about doing something after our experience and finally, we had that opportunity. We lived 20 minutes from all three of the hospitals, so once a month, we cooked for them. A Winn-Dixie manager found out what we were doing and gave us the meats every couple of months. Publix also helped us out and my wife got some vendors she knew to donate hams. We've cooked pork chops, chicken, lasagna and even an Easter dinner.
Q: Do you still have time to enjoy leisure activities?
A: I'm here at MDC every Monday and spend Tuesdays and Thursdays at home doing projects around the house. I still go fishing. I also have another volunteer project that I do for the county and the state. Each month, I collect the monofilament fishing line from 19 area recycling containers located throughout New Smyrna Beach. When I started doing that, some of them had been severely neglected, so we had to fix them. Now, they've all been repaired, emptied and I'm in a routine sorting the contents of the tubes.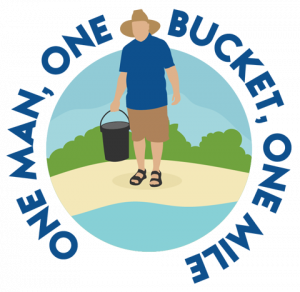 Q: Talk about your various trash collection initiatives.
A: I'm the sponsor of the 27th Avenue Park in New Smyrna Beach. I clean up the trash in the park and help the city. I go there early on Saturday morning every two weeks and pick up the parking lot and the park itself. If there are any problems, I report it to the facilities operations manager. In addition, I do beach trash pickups and will randomly stop and pick up trash at parks somewhere. I have a Facebook page called onemanonebucketonemile [one man, one bucket, one mile]. It's actually two miles because you walk a mile picking up trash and you have to turn around and walk back. It started as therapy because my doctors wanted me to walk more, but when I got out there and saw all the trash, that's how it started. It's the right thing to do.
Q: Do you have any other hobbies?
A: I love music, especially from the 1970s and '80s. Sorting out the fishing line in the recycling tubes takes a lot of time. It's not really a hobby and it can get aggravating and challenging, but I try to flip the positive. People are not supposed to put trash in the recycling tubes, but I look at this way: if they didn't put it in the tube, they would have probably thrown it on the ground.
Q: Are you still cooking for the Ronald McDonald Houses?
A: No, we live too far away now, but we have helped with the Volusia Thanksgiving Basket Brigade. We made a bunch of our own baskets of food to donate. When they put the call out for drivers, we went to Daytona State College where we all met and made food deliveries. That was the first thing we got involved with here since we moved. There are a lot of good projects and causes around here to get involved in, so we get involved wherever we can.