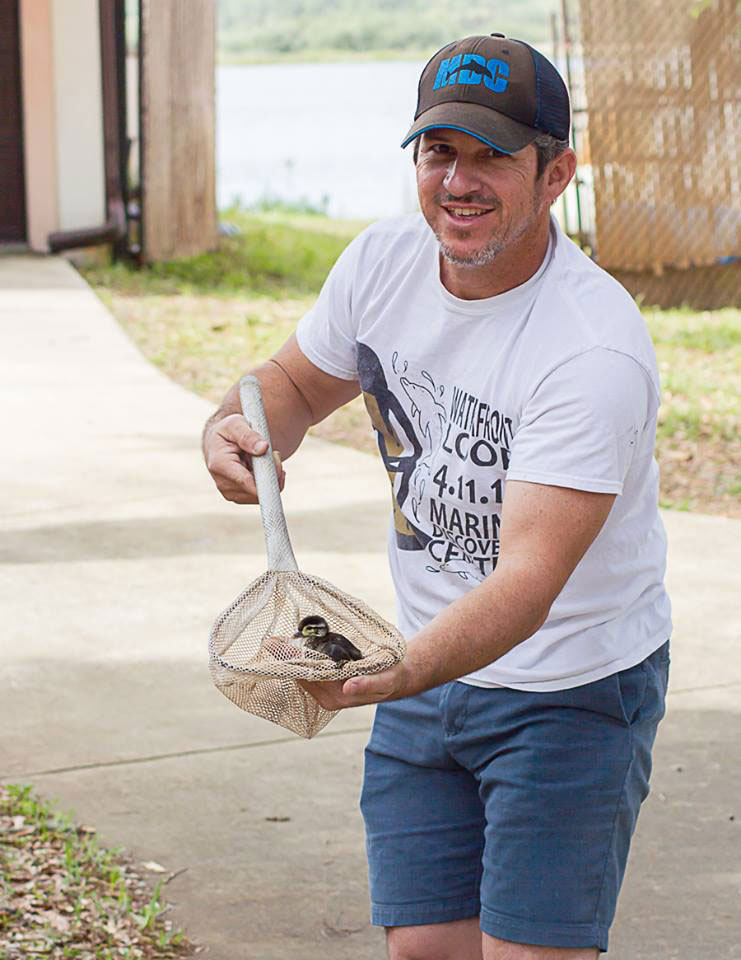 Chad Truxall
Executive Director
email: chad@marinediscoverycenter.org
I have more than 17 years of experience as a biologist, educator and non-profit manager.
I came to the Marine Discovery Center in 2004 as its Director of Education and now serve as the Executive Director, responsible for the long range vision, mission and strategic direction for the organization. This involves a strong community presence and the implementation of hands-on, feet-wet education, restoration and stewardship programs focused on Florida's coastal ecology.
I have a B.S.A. in Wildlife Ecology and Conservation with a specialization in Aquatic Sciences from the University of Florida. I am a Florida Master Naturalist instructor and coordinate the Florida Coastal Naturalist program. I serve as the coordinator for the Florida region of the Association of Nature Center Administrators and believe that in the future, nature centers will play an increasingly important role in the community. I have more than 9 years of experience as a Volusia County Marine Mammal Stranding Team Member and recently completed a six-month study circle through the National Network for Ocean and Climate Change Interpretation.
B.S. Wildlife Ecology and Conservation- University of Florida
Florida Master Naturalist Program, Lead Instructor
USCG Certified Crew
Lifeguard/First Aid/CPR
Boat Safety Course
Open Water Diver
COORDINATORS & OFFICE STAFF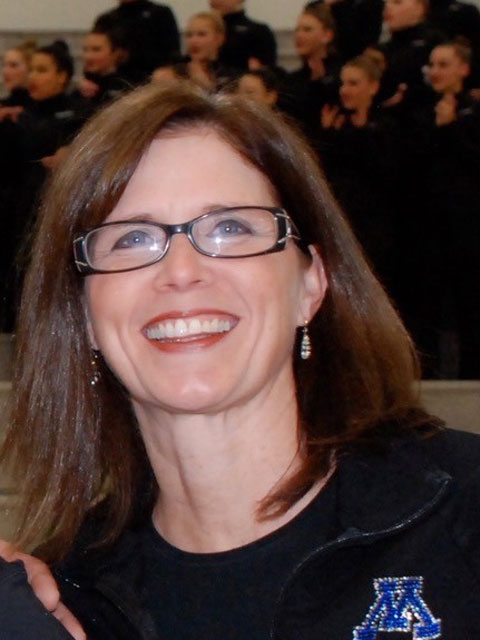 Wendy Castino
Marketing & Events Specialist
email: wendy@marinediscoverycenter.org
I bring 30 years of client service experience with me to the Marine Discovery Center. For the last 20 years I have been in the insurance and financial planning industry with a focus on client service management as well as seminar and event coordinating. I am a firm believer that "people can tell when you're smiling, even over the phone". My goal is not only to meet a client's expectations, but to exceed them.
I moved to New Smyrna Beach three years ago and began volunteering at MDC to obtain a better knowledge of "what is floating and living in the river in front of my house". My family boats, kayaks and paddleboards regularly on the Indian River and we want to make sure it is taken care of so others can enjoy it for years to come.
Vocational degree in Travel Planning
30 years Client Service experience
6 years Seminar and Event Coordinating
CPR and First Aid certification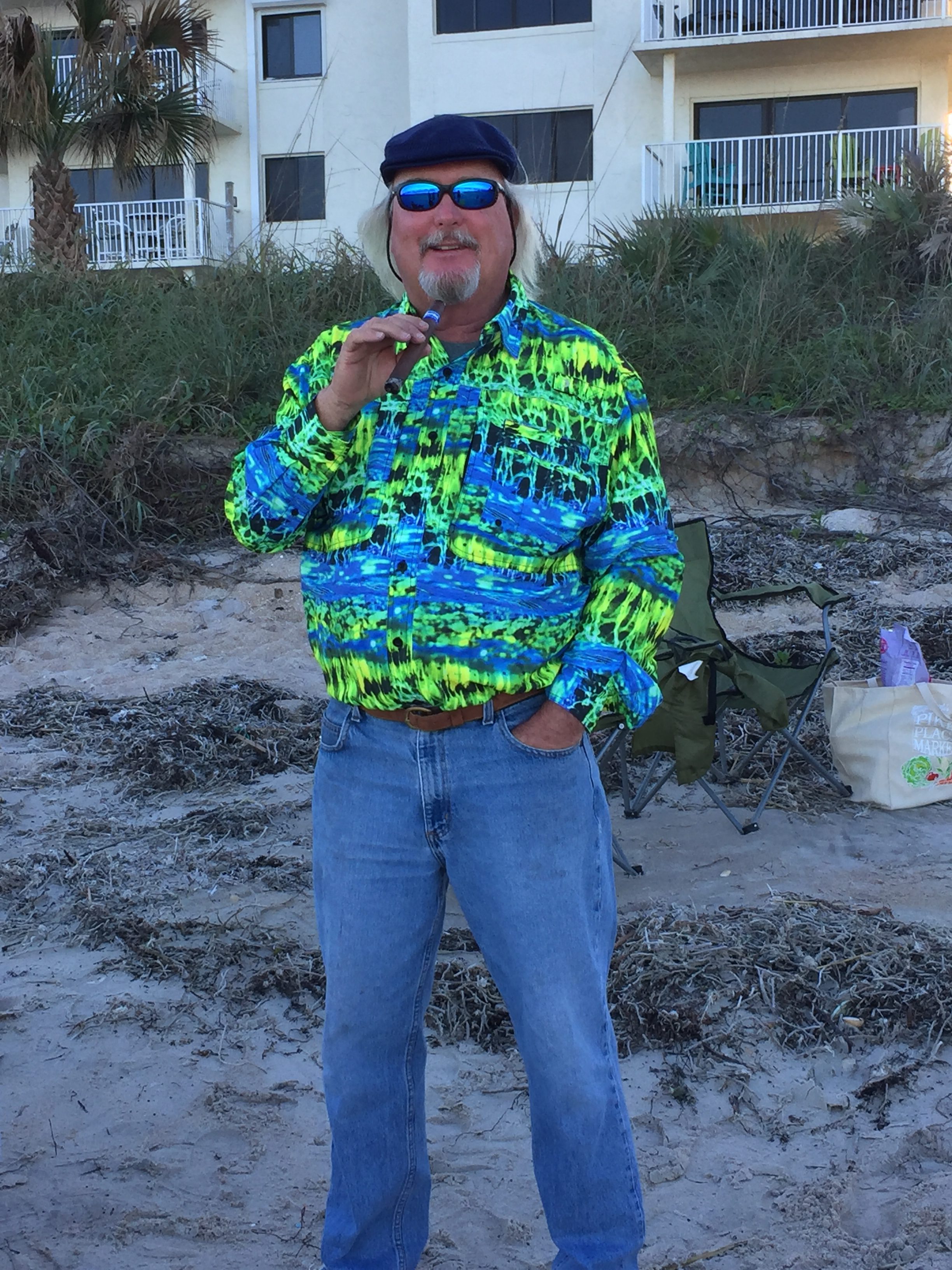 Guy Flick
Boat Operations & Facilities Coordinator
email: guy@marinediscoverycenter.org
I am a retired restaurant executive with 31 years' experience spent managing a 150 unit multi state territory. Upon retirement, I renewed my Captains license and started down a completely different path. First, I started working for several local venues including being an airboat captain for Black Hammock Fish Camp and a Seatow captain locally at Ponce Inlet. I also spent two summers in Alaska as a guide at Yesbay lodge and will continue to go back on a limited basis. I eventually obtained my Florida Master Naturalist – Coastal certificate and worked part time for both Turtle Mound Eco tours and Marine Discovery Center. I came aboard full time at MDC in September 2016 to manage the Boat / kayak operations and facilities management.
Vice president Captain D's Seafood Restaurants 9 years
31 years restaurant experience
Master Captain for 5 years
Seatow Capt.
US Power boat instructor
Florida Master Naturalist Program – Coastal Systems Certified
Fishing Guide NSB and Alaska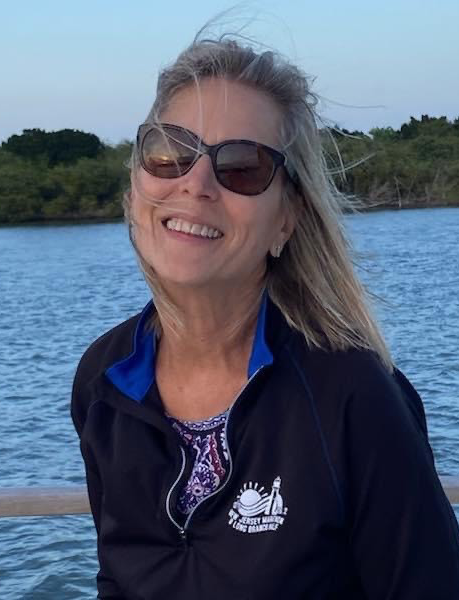 Robin Mansfield
Welcome Center Specialist
email: robin@marinediscoverycenter.org
In joining the team at Marine Discovery Center, it feels like my professional life has come full circle. I began my career as a biology teacher in the Philadelphia area. Some personal experiences in my life changed my path for a while and I entered the nursing field. I am licensed RN and Nurse Practitioner and have worked in the fields of cardiology, geriatrics, college health and administration.
I grew up, not at the beach, but in the mountains, lakes and rivers of Pennsylvania, my family camped, boated and fished together. I truly had a hands-on feet-wet childhood. I moved to NJ after getting married and expanded my love of nature by exploring the Jersey shore and Delaware river.
We became full-time residents of New Smyrna Beach in 2021, but it has been our second home for over 20 years. This bond began when we would visit my mother-in-law who spent the winter months here. We purchased a condo and spent every opportunity we could to get away and enjoy the beaches and waterways in the area. I always knew I would live in NSB and that MDC would be part of my story. My family has taken advantage of everything MDC has had to offer on our visits including sending my son to summer camp. I began volunteering at the welcome center; then in the summer of 2021, I was hired as the EcoArtist camp counselor. Now I am back in the welcome center as part of the staff, which allows me to share my love the Indian River Lagoon, and the mission of education and conservation with all those who visit MDC.
B.S. Secondary Education/Biology – Temple University
Registered Nurse, A.D. – Helene Fuld School of Nursing
Nurse Practitioner, MSN – The College of New Jersey
New Smyrna Beach Turtle Trackers-Volunteer
Carley Metcalf
Education Coordinator
email: carley@marinediscoverycenter.org
Originally from New Orleans, Louisiana, I spent summers volunteering at Audubon Aquarium of the Americas and fell in love with everything at the water's edge and beyond. While earning a B.Sc. in Marine Science and certification in sustainability from Coastal Carolina University in South Carolina, I held multiple environmental education positions including kayak tour guide and summer youth leader. Upon graduation, I was selected for an internship at the International Fund for Animal Welfare in Yarmouthport, Massachusetts with the Marine Mammal Rescue and Research Team. During my time in the Atlantic Northeast, I contributed to data collection efforts on basking shark diving habits, North Atlantic right whale feeding ecology, and the Bay of Fundy water chemistry analysis at the Grand Manan Whale and Seabird Research Station. I have worked as a biologist on species conservation projects with a primary focus on the threatened West Indian manatee and the critically endangered North Atlantic right whale. I have further worked as a protected species observer promoting coexistence between wildlife and human activity. In my travels, I found myself captivated by the endless diversity and wonder within each of Florida's many ecosystems. I am elated to be part of an organization that strives to bridge the gap in understanding and reverence between humans and the natural world we inhabit.
We become what we pay attention to – Sue Monk Kidd
B.Sc. Marine Science, Coastal Carolina University
Certification in Sustainability, Coastal Carolina University
Aviation Survival and Egress Trainign ASET 1
CPR and First Aid Certified
Tracie Morris, CFRE
Director of Marketing
email: tmorris@marinediscoverycenter.org
For as long as I can remember, my home away from home has been New Smyrna Beach. It's where my family has created a lifetime of memories together. Where my children have marveled at dolphins and manatees while kayaking in the Indian River Lagoon; where they witnessed baby sea turtles make their way to the ocean each summer; where stingrays, jelly fish and starfish wash up in the waves, and create a living science lab on the shoreline.
It's where I come to restore balance and reconnect with nature.
And pick up garbage. Because there is no such thing as a leisurely stroll on the beach with all the trash that gets left behind. It goes without saying, if you ask me to go for a walk, you better grab a bucket, because we have work to do!
I've worked in the nonprofit sector for most of my career. The older I get, the more I understand my purpose…and why I can't look at a problem without wanting to help find a solution.
Before joining the MDC team, I was the executive director of a private family foundation and prior to that served as Vice President, Development and Community Engagement for Coalition for the Homeless of Central Florida. I have extensive experience in marketing and communications, fund development, special event fundraising, and community engagement and I love celebrating the many donors and volunteers who make our work possible. In my role as Director of Marketing for Marine Discovery Center, I'm grateful for the opportunity to connect guests with meaningful experiences in nature while ensuring the New Smyrna Beach community, as well as visitors from across the state and country, know and understand the important work being done to restore and protect the Indian River Lagoon for generations to come!
B.S. Organizational Leadership
Certified Fund Raising Executive (CFRE)
Leadership Orlando Class 94
Recognized as the 2018 Outstanding Fundraising Professional by the Association of Fundraising Professionals Central Florida Chapter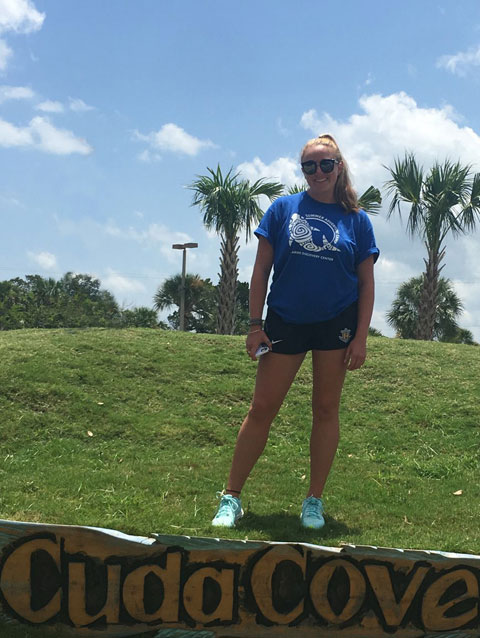 Tess Sailor-Tynes
Conservation Science Coordinator
email: tess@marinediscoverycenter.org
Since sophomore year of high school, I strived for a future in marine conservation. I made the move from San Antonio, Texas to Florida in 2013, when I started at Rollins College. During my collegiate career, I took an internship with the Marine Science Center as a part of their Artificial Reef Research Team. Additionally, I was involved in NCAA athletics as a Cross Country runner, was a member of Eco Rollins, and worked on projects that were dedicated to urban farming and sustainability. I graduated in May of 2017 with a degree in Environmental Studies, with a focus in Marine Conservation.
My journey with Marine Discovery Center started in May of 2018, when I accepted a position as a Summer Camp Counselor. After completing 11 successful weeks of Summer Camp exploration, I joined the Boat and Kayak Guide team to expand my passion for educating the community about conservation efforts in our local ecosystems. Each excursion on the IRL is different and I never get tired of seeing all of the incredible species that call this place their home.
When I'm not at work, I spend time working on photography projects, cooking up new recipes, or running on the beach. I love being outside and I'm so fortunate to have a job that allows me to combine lifelong learning with personal gratification.
Bachelor's Degree in Environmental Studies
Project WET Certified
First Aid & CPR Certified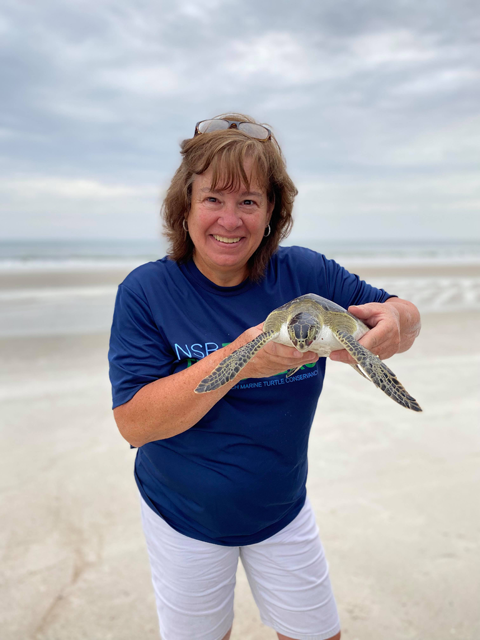 Laura Stapleton
Welcome Center Associate
email: laura@marinediscoverycenter.org
I grew up on Long Island in New York and always had a love for nature and the outdoors. I stumbled upon Marine Discovery Center when I moved to New Smyrna Beach in 2017 and began taking the Florida Master Naturalist Classes in 2018. Volunteering at MDC was just a natural progression and I've loved every minute of it.
My real passion is turtles, all species of turtles. When I moved to New Smyrna Beach I began to volunteer with the New Smyrna Beach Turtle Trackers and now I help conduct the daily surveys and document the nesting activity on our local beaches during the nesting season. I feel privileged to work with this outstanding group and contribute to the data collection of these endangered and threatened species.
I'm very excited to join the MDC team and bring my passion and experience to help our visitors and locals learn about all the wonders of nature here in Florida.
Advanced Florida Master Naturalist / Land Steward. Certified in Coastal Systems, Freshwater Systems, Uplands Systems, Environmental Interpretation, Habitat Evaluation, Conservation Science, Wildlife Monitoring and Shoreline Restoration
Founder – Volusia Friends of the Florida Master Naturalist Program
New Smyrna Beach Turtle Tracker Volunteer
Traci Trusler
Communications & Data Specialist and Volunteer Coordinator
email: traci@marinediscoverycenter.org
My career path has been a winding, curving, interesting road on which I've toured people around historic homes, driven sightseeing trolleys through St. Augustine, welcomed visitors at Walt Disney World, and instructed people to stretch and bend themselves into various yoga poses. A native Ohioan who was fortunate enough to grow up with a second family home in New Smyrna, I moved to Florida permanently in 2012 and began volunteering and then working at MDC. I do have my official duties of course, but if you happen to see a chick in a mermaid tail around here, that's probably me too. In fact, some people know me first and foremost as Mermaid Traci.
In addition to the above I am a mommy to a feline furbaby and a tankful of freshwater fishies, and I spend absolutely as much time as I can with my husband, Scott.  I am a lover of theme parks, camping, music, movies, history, and exploring interesting and quirky places. Odds are if you can't find me I'm very likely with Scott either people-watching somewhere or at home laughing hysterically at episodes of MST3K.
Florida Master Naturalist Program – Coastal Systems Certified
B.A. History, Miami University; B.S. Recreational Therapy, Western Carolina University
"Certified" Mermaid – Sirens of the Deep Camp, Weeki Wachee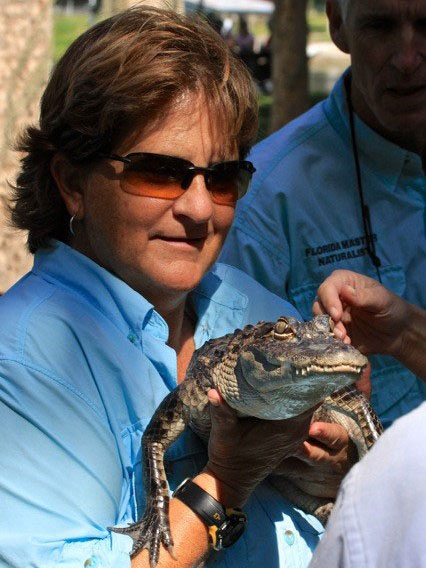 Lisa Mickey
Boat Narrator & Copy Writer
email: lisa@marinediscoverycenter.org
I was the kid who kept a cricket cage on my bedroom windowsill at night to sing me to sleep and who sometimes chased escaped box turtles under my bed. I spent an entire childhood tromping in the North Carolina woods, quietly observing wildlife from my treehouse, romping on the beaches, rappelling down mountain rock faces, crawling into caves and catching peeks from the local Audubon chapter's viewing scopes in my teens. That was my real education in nature, formalized years later with classes and instruction that taught me the names of things I had always seen and heard. Decades later as a certified naturalist, I find that my role in environmental interpretation is still like giant "Show & Tell" from elementary school. It's more scientific now, but the goal is the same – to explore the wonders of nature and to feel supremely blessed by sharing a planet with such living diversity. I can't think of a place I'd rather be than sitting in a kayak on the Indian River Lagoon watching dolphins and manatees, strolling down a sun-splashed beach kissed by sea foam, riding a bike while trying to watch a soaring osprey or plant-nibbling gopher tortoise, or hiking in Merritt Island with binoculars, hoping and praying that a Florida Scrub-Jay will come say hello.
Florida Master Naturalist Program – Advanced Master Naturalist & Florida Land Steward Certification
Florida Master Naturalist Assistant Instructor
ACA Certified Kayak Instructor
USCG Certified Crew
U.S. Power Squadrons Paddle Smart certification
Former Adopt-An-Estuary program coordinator
B.A English, High Point University, North Carolina
Graduate Studies in Literature, University of North Carolina-Greensboro
Veteran newspaper, magazine journalist
3-time national award winner – Golf Writers Assoc. of America
Certified in First Aid & CPR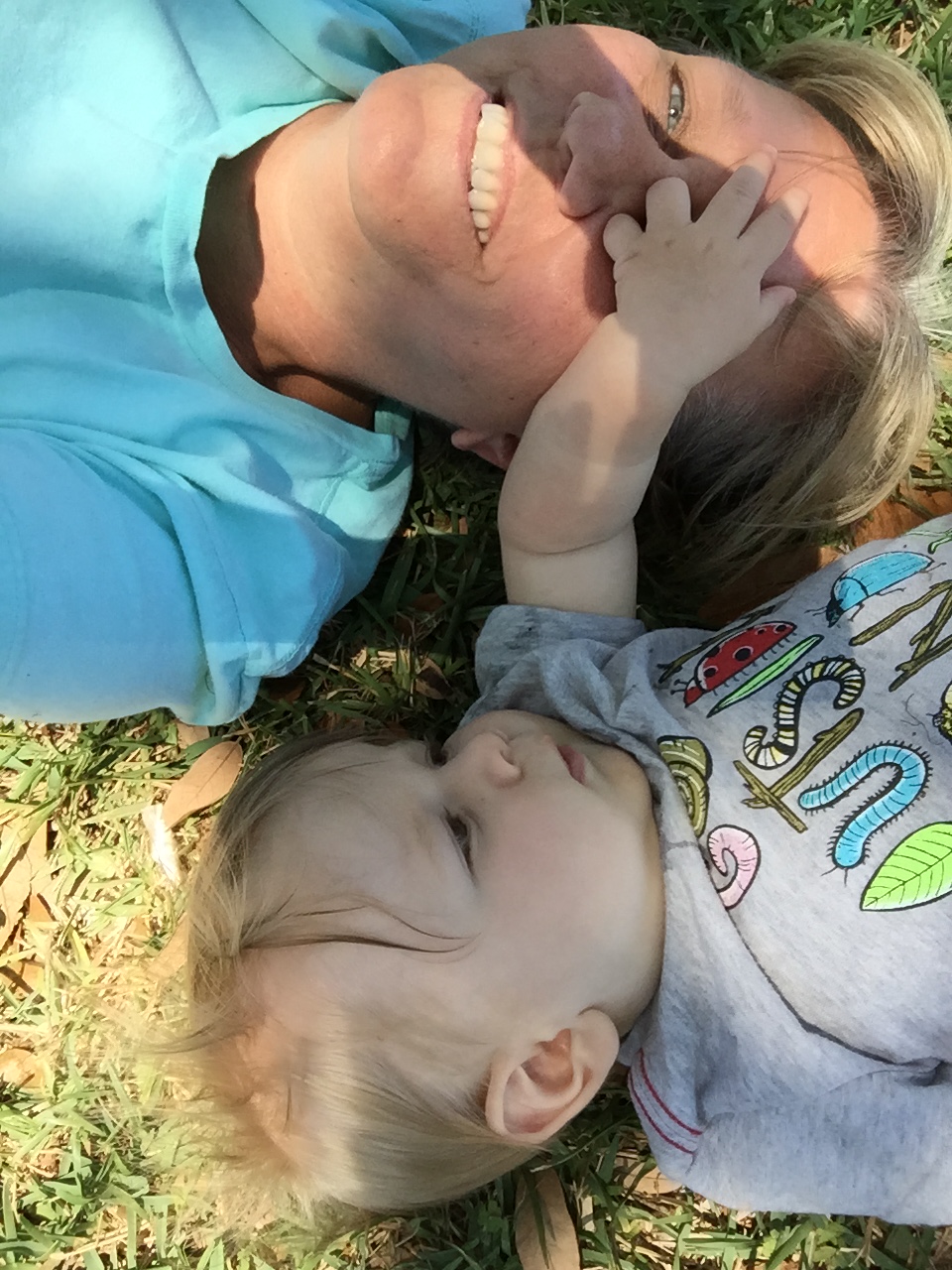 Jeannie Asby
Boat Narrator
As a Florida native, I grew up loving all things "nature."  After graduating from Mainland High School in Daytona Beach, married life detoured my college path.  When 4 sons came along I couldn't even see the path!  I home-educated our sons, frequently using the outdoors as our classroom, and watched their fascination and appreciation for nature grow.  When they all graduated I returned to school and received my Nursing degree, but after working as an R.N. for just over a year I went back to my first love.  I completed the Florida Master Naturalist core classes, where I finally met other "nature nuts" like me.  With an empty nest, my husband and I quit our "real" jobs and we are following our passions.  For him, music; for me, nature.
I'm constantly amazed by this incredible world we've been given and I love to share the discoveries of creation with others, especially children (my grandkids included)! I believe the first step toward conservation and preservation is education.  When people experience nature, they connect to it, and they want to take care of it.  MDC is all about those same things!  Come join us!  I can't wait to see all we can do TOGETHER to be good stewards of the Indian River Lagoon, a place of beauty, fascination, and tranquility for us… and the next generation.
Florida Master Naturalist, certified Coastal, Freshwater, and Uplands. Special topics pending.
Florida's Natural Element, LLC, owner
FWC – Project WILD Facilitator/Trainer
Florida Youth Conservation Centers Network, member
Space Coast Regional Chapter of Florida Master Naturalists, member
Registered Nurse, A.S. in Nursing, Daytona State College
American Canoe Association, member
ACA Level I and II Kayak Instructor Certification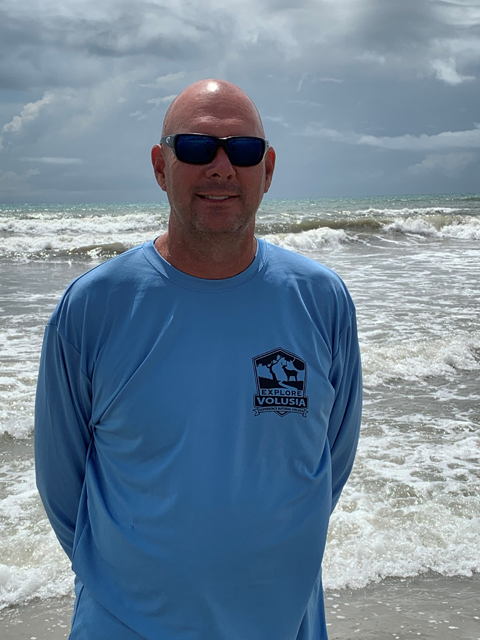 Bob Creedon
Boat Narrator & Kayak Guide
After 30 plus years in Corporate America, I have retired and finally made more time to pursue my passion: Nature. In my prior careers, I worked at a large Corporation, both in Finance and IT roles, with the last 20 years in leadership positions.
I have lived fulltime in New Smyrna Beach for the past four years and owned a duplex here previously. I am an avid kayaker and hiker, and love exploring new trails, and have spent many afternoons on the waters of the Indian River Lagoon.
Florida Master Naturalist Program – Certified in Coastal Systems, Freshwater Systems and Upland Systems
Member of the Friends of the FMNP – Volusia County
Nature Editor for NSB Guide website
Recent new member to the Volusia County Washback Watchers (Sea Turtles)
Created the Sugar Mill Ruins guided nature trail
Self-proclaimed Epiphyte expert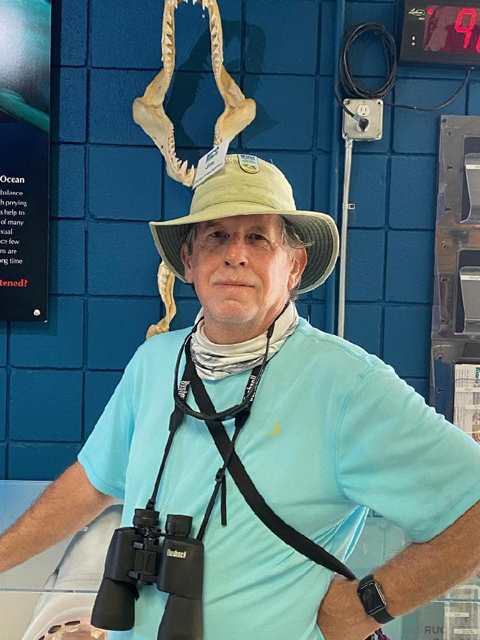 James Engelbrecht
Boat Narrator & Kayak Guide
I have spent winters in New Smyrna Beach since 2011. I moved here full time in 2020 and really enjoy spending time exploring the nature of this area and what it has to offer. I am currently a self-employed photographer specializing in travel/tourism and wildlife/nature photography. I started at the Marine Discovery Center as soon as I moved here as a naturalist guide for the kayak and boat tours. I am a Coastal Systems Naturalist and am working to complete my Florida Master Naturalist program through the University of Florida.
I have a BFA in Communication Design/Photography from Rochester Institute of Technology in New York. I have worked as an Art Director in Advertising and at Parker Brothers Games. I was a Creative Director and Photographer in the travel industry. As a professional photographer, I have been on many photo assignments in Europe and the United States for deluxe travel companies.
I spent 14 years as a Boy Scout leader teaching ecology, nature, outdoor skills and nature activities. This included many field trips, canoeing, hikes and extended wilderness camping and summer camp in New England.
I love being on the water and am a skilled kayaker and spent summers sailing on the Charles River as a member of Community Boating in Boston, MA. I have completed the USCG Coastal Navigation course.
Bob Hazelton
Boat Narrator & Kayak Guide
I count myself as a Native Floridian courtesy of my dad being in the US Navy and me being born in Jacksonville. Since then, I have been in-and-out of Florida 6 times and have lived in 9 Florida cities.
My introduction to the Marine Discovery Center happened when I took the Coastal Systems course on my way to completing my Florida Master Naturalist certification. I remember sitting in the classroom and thinking that working for the MDC would be a lot of fun.
I spent nearly 40 years working for software companies and am very fortunate to have been able to change careers at 59 ½. My training in public speaking and instruction really became a labor of love when I began volunteering for the US Forest Service and the National Parks while living in southern California. Being a volunteer is the best job you'll never get paid for.
After moving to the area, I was excited to see an opening for a Kayak Guide. I am thrilled to have been hired and take pride in doing all I can to support the mission of the Marine Discovery Center.
Florida Master Naturalist – Coastal, Freshwater, Upland Systems. Special topics – Conservation Science and Coastal Restoration.
Certified Interpretive Guide via National Association for Interpretation
Florida Water Tours & Florida Water Warriors, First Mate/ Interpretive Guide
Leave No Trace Master Educator
Leave No Trace State Advocate – California
Anastasia State Park, volunteer Bird Steward
US Forest Service, Wilderness Ranger and Trail Boss (volunteer)
National Park Service, Volunteers In Parks – Joshua Tree National Park, Castillo de San Marcos National Monument (Historic Weapons Crew) and Fort Matanzas National Monument
Served on the board of directors for several local and national nature-based organizations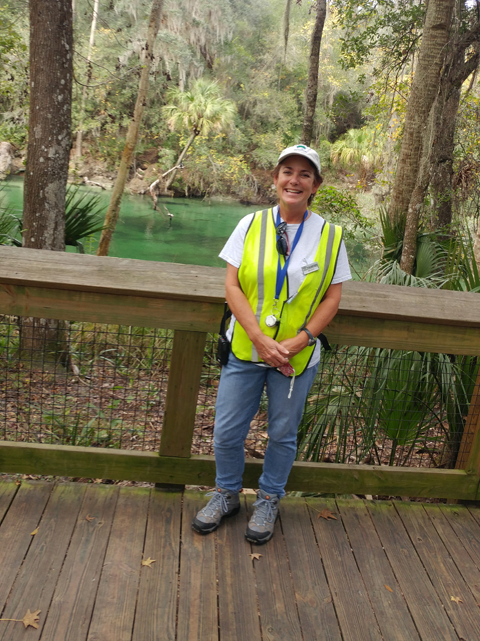 Melissa Landreville
Boat Narrator & Kayak Guide
Being a native Floridian, I have come to truly appreciate and love the natural diversity our state has to offer. After graduating from New Smyrna Beach High School (where Marine Discovery Center is now), I went on to study health communication at the University of Florida. Soon after graduation, I was able to acquire enough experience to open and operate a medical transcription service. My strong desire to continue learning put me on the path to University of Central Florida where I earned my master's degree in health services administration. Technology changed the landscape of the medical transcription industry so I then ventured into elementary education. Through several years of teaching children, I have developed a keen awareness for the environment and how much we need to protect and preserve it. This inspired me to learn how to paddleboard so I could get out on the water as much as possible and view it from a completely new perspective.
Observing wildlife in the Indian River Lagoon and other water bodies has filled me with the need to make a difference by educating others about this unique state. Countless manatee encounters solidified my love for them as well and how much we need to protect them. Becoming a volunteer for the Florida Parks Service at Blue Spring State Park and for the Save the Manatee Club in the past several years has helped me in this realm. In the spring, summer and fall, I am privileged to be a Manatee Observer in a kayak as well as on the boardwalk educating the public about the manatees and the importance of protecting them and their habitat. During the winter, I am able to spend time in the Manatee Rover program educating the public about the manatees and the importance of their warm water refuge.
A few great friends told me about the Florida Master Naturalist Program. I have completed the modules for the Coastal Systems and the Uplands Systems. Soon after the conclusion of the Coastal Systems module, I began volunteering at MDC. It has been terrific to learn in greater detail about how special this area is and to give back to the community in which I grew up. I am very excited for this opportunity to be a kayak tour guide.
Aside from volunteering and teaching, I enjoy adventures with my family and friends, paddleboarding, observing manatees, kayaking, hiking, camping, exploring local, state and national parks, and running.
UF/IFAS Florida Master Naturalist Program – Coastal and Uplands Systems certified
FWC Project WILD certified
FWC Aquatic WILD certified
Volunteer, Florida State Parks and Save the Manatee Club
Member, Friends of Volusia County Florida Master Naturalist Program
Primary Teacher, Volusia County Schools
Owner, Expert Transcription, LLC
B.A. Health Communication, University of Florida
M.S. Health Services Administration, University of Central Florida
Graduate, Daytona State College, Education Bridge Program
Completion/Certification, Boat U.S. Foundation for Boating Safety & Clean Water Online Boating Safety Course, approved by National Association of Boating Law Administrators
Completion/Certification, Department of Environmental Protection, Advanced Kayak Training
Abby Proctor
Boat Narrator & Kayak Guide
I am a marine biologist and recent graduate of Jacksonville University. I have had the opportunity to work closely with aquatic animals while at school where I oversaw the university's aquaria. I have many years of experience in childcare and volunteering in my community. I have worked with everything from stingrays to falcons. You will almost always find me outside enjoying nature through kayaking, hiking, diving, and fishing.
I have a strong interest in botany and cartilaginous fishes. I plan to continue my education and conduct research on elasmobranchs.
I am from a small town in Western New York and have come to visit New Smyrna Beach all my life. I fell in love with this town and the natural environment which has driven my passion to conserve the wildlife and the lagoon. I decided to move to NSB after college and work at Marine Discovery Center as an opportunity to live out my passions of conservation of marine ecosystems and wildlife.
B.S. Marine Biology
PADI Open Water Diving
Red Cross First Aid/CPR
IACUC certification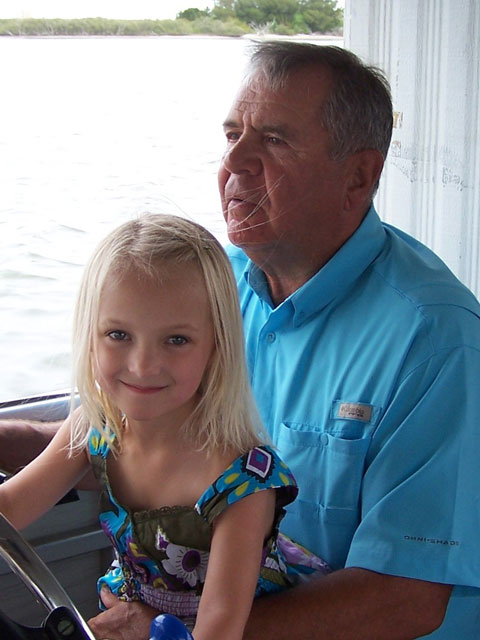 Walt Hangen
Boat Captain
Having spent a good portion of my early years on an undeveloped island on the coast of New Jersey I learned about the land and sea, its inhabitants, the environment and how they related to each other. This was long before the study of Ecology became formalized. Throughout my working career with the US Public Health Service and 35 years in a Rental Equipment business I was always involved in some sort of activity around water and nature and sharing my learning and experiences with family and others. Following a move to New Smyrna Beach, I was fortunate to obtain my captain's license, work for the National Park Service and learn about the Florida Master Naturalist Program and Marine Discovery Center. I was hooked on the chance to continue learning about the things I love and be able to share the excitement with others. I am thankful for such opportunities! I hope to be able to continue to serve in these activities for the foreseeable future.
B.S. Science, Biology & Chemistry
US Public Health Service, local, regional and national positions
Advanced classes in Public Administration and Management
Owned & Operated W H Rental Corp (Tools, Equipment & Party) 35 years
USCG Master Captain, 50 Ton and Towing Endorsement
Red Cross Water Safety Instructor
Park Ranger, Canaveral National Seashore, NPS
VIP, Canaveral National Seashore, NPS
Certified First Aid & CPR
Florida Master Naturalist Program – Coastal Systems Certified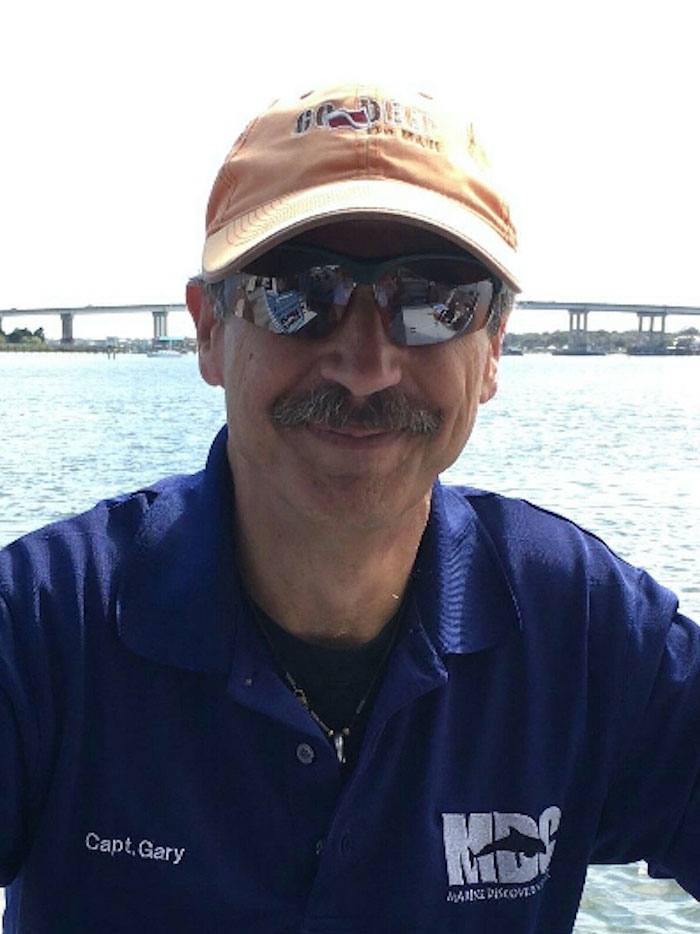 Gary Kessler
Boat Captain
My love of the ocean dates back to my childhood growing up on southern California beaches. I became a certified SCUBA diver as a teenager in the late-1960s largely due to an interest in discovering old ship wrecks. I went to college to study oceanography but got distracted by mathematics and computer science, but I have pretty much always lived near water, including 33 years on Vermont's Lake Champlain between 1977 and 2012. I started boating in the early 1990s, eventually becoming a SCUBA instructor and USCG boat captain. I have lived in Florida since 2012 and am getting accustomed to a new type of marine life, and starting to get back into my basic diving interest of maritime history and archaeology, volunteering with the St. Augustine Lighthouse Archaeological Maritime Program (LAMP). I continue to love any activity that puts me on, in, or under the water.
I am also a cybersecurity consultant, educator, and researcher, a field in which I have been involved since the late-1970s (and it continues to be a growth industry). My primary focus is on maritime cybersecurity.
USCG Licensed Captain (50 GT Master and Tow Assist)
USCG Auxiliary Coxswain
PADI Master SCUBA Diver Trainer (specialties include Underwater Naturalist, Goliath Grouper, and Lionfish)
First Aid/CPR
B.A., Mathematics; M.S., Computer Science; Ph.D., Computing Technology in Education
Professor of Cybersecurity, Embry-Riddle Aeronautical University (retired)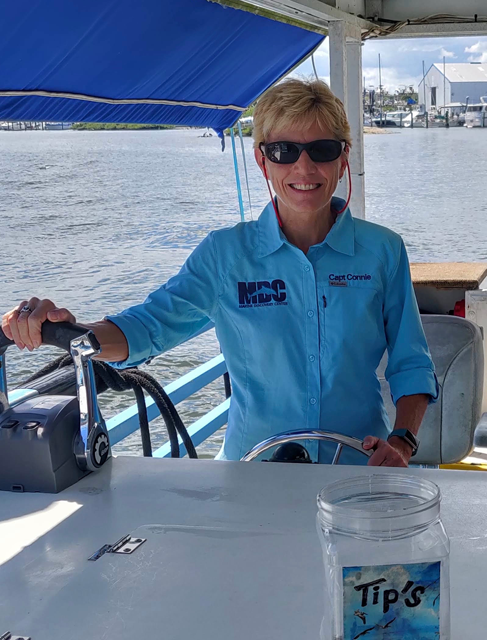 Connie Mann
Boat Captain
I've been a licensed captain since 2006 and have spent the last 15 years introducing students and guests from around the world to the crystal-clear beauty of Silver Springs and the Silver River in Ocala, Florida. I drove glass bottom boats at Silver Springs for over 8 years and spent 13 years as the lead captain and head of the boat program for the Silver River Museum and Environmental Education Center, which is part of Marion County Public Schools. What a privilege to introduce boat-loads of school children to their first alligator or manatee, and get them excited about nature and conservation.
I am also a published author and write suspense and adventure fiction, much of it set in Florida. Both my Florida Wildlife Warriors and my Safe Harbor suspense series are set in the sunshine state and help showcase the beauty and diversity of our beautiful state.
Hubby and I recently relocated to this part of Florida and I'm delighted to be part of the Marine Discovery Center's boat program. I love the Center's mission of exploration, conservation and education and am excited to be part of the team.
USCG Master Captain (25 ton)
Certified CPR/First Aid
BA International Ministries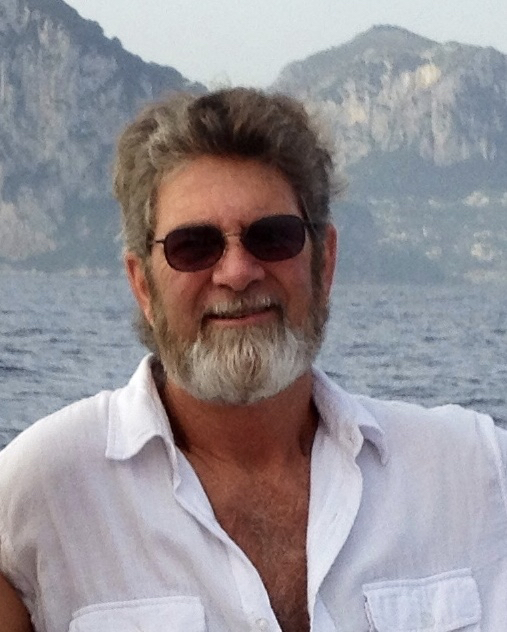 Doug Marcella
Boat Captain
Having grown up on the Atlantic Ocean off Massachusetts, and buying my first boat at 12, it seemed natural to join the US Navy after graduating high school. My time serving on the USS Point Loma took me throughout the Pacific Ocean, receiving the National Defense Service Medal. I spent the next 30 years as a commercial fisherman, captaining my own boats from Gloucester Mass to the Outer Banks of NC.
After retiring from fishing in 2010, I worked as a Private Investigator for Liberty Mutual and UPS. In 2017, my wife and I sold our house and bought a 68" Hatteras in Beaufort, SC which we lived on and traveled the ICW and to the Bahamas before settling in New Smyrna Beach in late 2019. During this time, we chartered our vessel, delivered boats and did sea trials.
We really love New Smyrna Beach and look forward to working with the Marine Discovery Center.
USCG Licensed Captain (100 ton with Tow Endorsement)
FCC Radio Operator License
FCC Radar License
First Aid/CPR Certified
Scuba Diving Certification
Licensed Private Investigator
US Navy – Honorable Discharge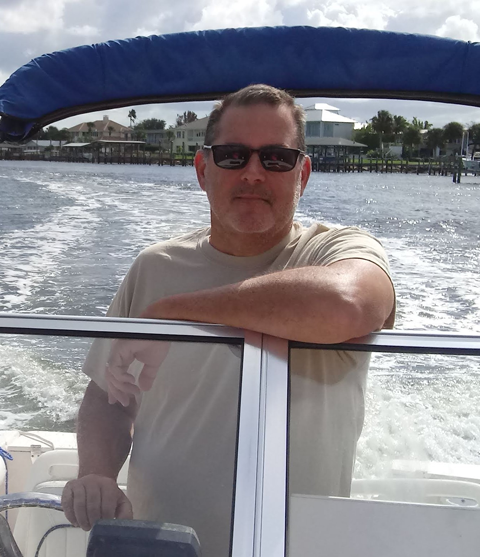 Bill Mead
Boat Captain
My wife and I moved to NSB in 2017 after raising three children in central NC. I obtained my love for the water growing up in this area before moving north as a teenager. As a Navy and Coast Guard veteran I wanted to return to a career on the water and obtained my 100 Ton Master License in order to follow that dream. Leading tours on the Discovery allows me to get back on these waters and share so many of the wonderful things I remember seeing as a child on the lagoon.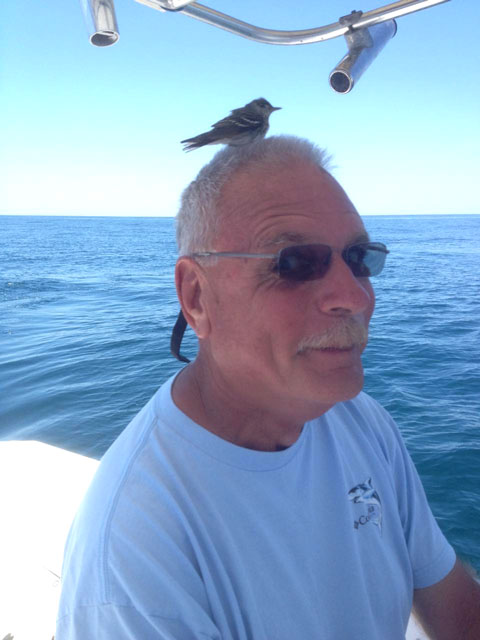 George Texter
Boat Captain
I owned a graphics business in Buffalo NY for 34 years. I raised three girls, paid for the their education, retired and moved to Ponce Inlet, Fl. I hold a fifty ton masters license and enjoy driving for the MDC.

Our Mission:
"To protect and restore Florida's coastal and Indian River Lagoon ecosystems
through education, research and community stewardship."