Fielding Cooley has worn many hats over the years along the way of his extremely diverse career path – including helping develop early protocols for organic farming in California, operating an Oregon sheep ranch, writing grants for childcare centers, setting up watershed councils in the Pacific Northwest and running multi-million-dollar programs for the state of Florida.
Cooley got quite a surprise when he thought the last stop of his colorful career as executive director of the Marine Discovery Center was going to be a gentle nod into his golden years. Instead, he found himself busier than ever writing grants, raising funds and positioning MDC to move into its current permanent home.
Read more about Cooley in MDC's September 2021 Volunteer Spotlight interview with staff writer Lisa D. Mickey:
Q: Where did you grow up?
A: I grew up in Savannah, Ga., but I have moved all over the place with a lot of different jobs.
Q: Where did you go to school?
A: I went to the University of Tennessee in Knoxville for a history degree and then I went to Dunedin, Fla., where I taught U.S. history as a school teacher.
Q: Talk about your career and what you have done.
A: After teaching for two years, I moved out west to San Francisco, where I had my first experience with an environmental organization at the San Francisco Ecology Center. It was started by a friend of mine from the University of Tennessee, so I went there to volunteer. Eventually, I became the center's education director, from 1969-1970.
Q: It must have been interesting to be in San Francisco in the late 1960s-early 1970s.
A: San Francisco was actually the nativity of the environmental movement in a lot of ways. Friends of the Earth started there and the Sierra Club had its international headquarters there. It was an exciting place to be. The center's goal was to educate the general public, sort of like what we do here at the Marine Discovery Center — just focused more on trying to get downtown workers to attend our brown-bag lunch seminars on current environmental issues with speakers who were local experts. Once, I had people come in and talk about organic farming. Because of that, I started the Organic Farmers Association of California, which ended up having a lot of members from Washington and Oregon, who were organic farmers.
Q: Where did that lead?
A: We developed a protocol for what was organic and what constitutes being recognized as an organic farm. Our work ended up going to the legislature in California and they looked at adopting rules for what is truly organic. They came to our organization around 1974-75, and took what we did, lobbied the legislature and California adopted what we had developed. That led to the standards adopted by the federal system, which is the stamp now seen on all organic products. By that time, I had joined a couple of families and bought a 300-acre sheep ranch in rural Western Oregon. I became a sheep rancher!
Q: So, what came next?
A: I had been looking for a job and finally I got hired as the executive director for the Child Care Council for Douglas County, Oregon. There was a whole network of these organizations throughout the state. I did that for five years. We had 25 elected board members and a lot of volunteers. We had hired staff who worked with people in the community setting up child care centers and family day-care homes. Unfortunately, we lost our federal funding and the entire state organization closed down. At that point, I had no job and was trying to make ends meet as a sheep rancher.
Q: Did you produce wool?
A: We sheared the sheep and sold the wool, which basically paid for the veterinary bills. We had 300 ewes, which was enough to keep us busy. I had two partners and we shared the work with irrigation pipes, baling hay and everything else. I didn't have a job for about two years and there weren't a lot of opportunities in that area for people with my background. So, I moved to Eugene, Ore., to go back to school and get my master's degree in instructional technology. It was a field in education using curriculum and technology. Personal computers were just starting and schools were using computers a lot more, so my master's thesis was on the potential use of teleconferencing as an educational way of delivering service. It was funny watching the technology back then because the audio was out of synch with the video, and sometimes the video would jump around.
Q: Did you leave sheep farming to work in tech?
A: After I got my master's degree, I wanted to go to work with business and industry, but I didn't really have the technical background. Nothing was happening, so I went back to school and got my doctorate in education policy and management. My dissertation focused on the culture of school boards. I got a job working as assistant to the dean of the college of education at the University of Oregon. I did that for 1½ years. Once the funding for my job dried up, I got a job at Oregon State University.
Q: What did you do at Oregon State?
A: I went to work for the Agricultural Extension Service. I worked there for four years, but we entered into a recession, which was greatly affecting the timber industry in Oregon, which was a big source of revenue for the state. That forced big cuts to higher education programs. Even though I was a tenure-track assistant professor, I was the last hired, so I was the first out when state cuts were made. I had one more year there, so I wrote a grant to develop watershed councils for the idea of salmon habitat restoration. Historically, salmon runs used to be huge, but the creeks and rivers throughout Oregon had been decimated because of development, logging and timber practices, and ranching practices. I spent a year developing watershed councils and wrote curriculum for how to get all of the divergent stakeholder groups to come together, sit at a table, work out the problems and come up with solutions to improve the watershed so that salmon could thrive.
Q: Did you get them all to smoke the peace pipe?
A: We did! About three years ago, I contacted one of the professors who had worked with me on the project and he said watershed councils now cover the entire state of Oregon. I was somewhere with an idea at a time when it just worked.
Q: You sound like a business start-up specialist.
A: My ideas don't always work, but sometimes they do. I started the Women, Infants and Children's program when I was in Douglas County (Ore.) at the Childcare Council. I wrote the grant and got that started. I also wrote a grant for a food and nutrition program there for all of the daycare operations. One of the skills that I developed was grant writing.
Q: Where did you land after working in the extension office?
A: I got a job with a Workforce Council program in Eugene, Ore., as the assistant to the director. Around that time, I was going through one of the most difficult things in my life — getting a divorce after 28 years of marriage. I was very much at loose ends, but I got an offer from a fellow doctoral student who had been working in Alaska. She told me about a school district in Ketchikan, Alaska that had violated Special Education rules and requirements and they were going to be defunded by the federal government unless someone could go there, figure out the problems and fix it. I started my own private consulting business and took that job in 1998, spending five months there working with the school district and a team of other consultants.
Q: What happened after your stint in Alaska?
A: I continued consulting work after the divorce and came back to Florida. I always wanted to have a sailboat. Now single, I could buy a boat big enough to live onboard. My best friend and former sheep ranch partner had come back to Florida, so I stayed with him until I found a 39-foot sailboat in St. Augustine. I lived on it for nine months and learned how to sail it. I needed work, so a friend who worked in state government in Tallahassee suggested that I sail around Florida and get as close to Tallahassee as I could get and he'd try to help me. I parked my boat in Carrabelle, went to work in Tallahassee and that's where I met Kathy, my current wife. We've been married for 21 years.
Q: What did you do in Tallahassee?
A: I went to work for the Florida Department of Education. When they started testing in public schools and Florida developed the FCAT [Florida Comprehensive Assessment Test], I was the administrator of the program. They set up seven regional offices at universities around the state to identify school districts with problems and low scores. I managed that program for a little over a year and then I moved to the Agency for Workforce Innovation with the state Department of Labor.
Q: Were you still living on the boat?
A: No, I had married Kathy by that time and she had a nice house in Tallahassee, so we spent weekends on the boat.
Q: Did you continue with the Department of Labor?
A: I was later hired by the Department of Labor to be the education and information coordinator for the entire state Workforce Innovation agency. About a month after I took that job, a guy who was supposed to be heading up a $20 million software development project for the department released some information that was a big no-no in the bidding process. They fired him and two days later, my boss came in and told me that was my new job. Given my background of working with groups at odds with each other, I thought I could do it. I was there for about three years, but I could see they were going to have serious problems with the software that was being developed and the existing software. I resigned in 2003, and took a consulting job with a regional Workforce office in Orlando – commuting from Tallahassee for about six to eight months. Eventually, the Workforce for Central Florida office in Orlando offered me a full-time job as vice president. Kathy and I talked about it and moved to New Smyrna Beach because it was the closest place that had an inlet. I sailed my boat back around Florida, but sold it 10 years ago.
Q: Your commute was now from New Smyrna Beach to Orlando?
A: I worked there for a while, but resigned. Kathy and I had purchased a 100-year-old house on Magnolia Street in New Smyrna that needed repairs. After I resigned, I woke up every morning for about six months and did nothing but work on that house.
Q: When did you connect with the Marine Discovery Center?
A: That was in 2006. I saw the executive director's job at MDC advertised in the local newspaper and got the job
Q: That's a big change from your past jobs.
A: I've learned to be a jack of all trades. When I was at the Marine Discovery Center and we were in the two modular units, I ended up doing plumbing under the trailers and lot of other things there.
Q: How was that transition in leading a small, local nonprofit?
A: At that time, MDC had a history as an organization run primarily by volunteers. I think there were a few directors along the way, but they were paid mostly as boat captains. I don't think we had someone who was completely devoted to being executive director until I came onboard. At one point, the City of New Smyrna Beach had the grant for the former Water Taxi and MDC managed it, which made the money for MDC to hire me as its executive director. We ran the Water Taxi for about 3½ years. My job was to set up and manage that program and hire the people to do it. We eventually had two boats.
Q: What were you seeing at MDC in those early years?
A: I could see this was a great organization with volunteer roots in the community, but because of the work I had done with watershed councils, I had learned what constitutes a good working board of directors. MDC was heavily steeped in the culture as a volunteer organization run by volunteers. I wanted to subtly make the board aware that was the executive director's job and that they should not be involved in the day-to-day operations of the center.
Q: How long were you the executive director at MDC?
A: A little over four years, from 2006-2010. We went into a recession nationwide and tourism fell off everywhere – which affected the Water Taxi. The city announced it did not plan to subsidize the Water Taxi some $30,000 a year and we lost the contract. I realized the Water Taxi wasn't a business that the Marine Discovery Center needed to be in. We're an environmental education organization and we shouldn't be in the transportation business.
Q: What became the new focus at MDC?
A: From a grant-writing standpoint, I felt like restoration work in the Indian River Lagoon was an opportunity that was being missed. I started developing partnerships with some state agencies, wrote a grant to develop curriculum for the Indian River Lagoon Preserve Park [off Saxon Avenue] that we were using and we got some money to hire a staff member to work with that program. I wrote a grant in 2009 for a two-year program from NOAA [National Oceanic and Atmospheric Administration] to do restoration work with oysters in the lagoon.
Q: Where was MDC's first oyster restoration program done?
A: On the shoreline at Chicken Island. We also had volunteers making oyster mats. I felt we should marry the business of public education with restoration work in the lagoon. That moved us in the direction of the mission that the organization had originally intended. In that regard, I think that was my biggest contribution. At the end of my time there, I served as a volunteer executive director for three months with Chad Truxall hired to lead the organization.
Q: Were you involved in helping MDC find a permanent home in its current location?
A: I had tried to get the city to grant us a long-term lease for part of the property on the North Causeway, but they were talking about selling the property. You can't get banks to grant you a loan to build something if you don't have a 50-year lease. MDC had been trying to make something happen long before I came onboard, and when I did, we were still located in the former library beside Old Fort Park. I felt that we needed a permanent residence. Big-time philanthropic organizations are not going to give you money if you're in temporary headquarters.
Q: So, how did that transition to the former New Smyrna Beach High School fall into place?
A: One day, the phone rang and it was Brett Boston of the Florida Conservation and Wildlife Foundation, which is the foundation for FWC in the state of Florida. He told me they were taking over the property of the former New Smyrna Beach High School. The school board was going to sell the property, but it was state property and could not be sold. FWC wanted to build a series of Marine Enhancement Centers all over the state and applied to the state to take over management of the old high school property. For them to obtain the property, Brett told me the site had to maintain an educational purpose and that he needed a local educational organization to join them. I told him that sounded great to me!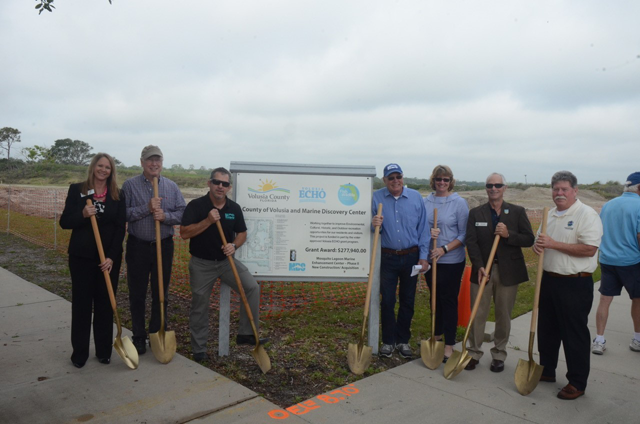 Q: That just fell into place for MDC.
A: It did. We worked hard to convince the City of New Smyrna Beach to provide a considerable amount of money as part of the matching funds for the ECHO Grant. About that same time, I realized I had to raise our portion of the matching grant – around $20,000 – and The Artists' Workshop also had to raise their portion. FWC added another $60,000 to renovate the building, and they eventually had to demolish the other old high school buildings on site.
Q: How do you feel about what MDC has become?
A: I'm just very encouraged by what has happened. Currently, we're involved with looking at solid plans for what will be built here in the future. But I think the center has parlayed excellent advantages out of ECHO Grants. We've built an amphitheater, a kayak shed and restored a salt marsh.
Q: From the former temporary trailers over on the North Causeway, could you envision what MDC has become?
A: I could envision that somehow, the Marine Discovery Center was going to figure out how to get a bricks-and-mortar building. Most of my thinking at that time was about what we could do with the property where we were? When the city was planning to sell the North Causeway site where we were based, we were even working with the bidders to try to get a permanent location allowed for MDC. Then when Brett called, my whole way of thinking shifted. We were trying to raise funds for the matching grant, but we also needed to repair our boat, which was either going to cost us $65,000 to buy a new pontoon boat or almost $60,000 to have a new hull installed on our boat. The Discovery boat has always been the revenue heartbeat of the organization. Without that boat, we could not have continued doing educational programs for children or eco-tours for the public. I went to the Port Authority in Volusia County and asked if they had any grant money to help us put new pontoons under our boat? They offered us a matching grant and again, we had to raise about $20,000 to pay the boat builder. It was a very challenging time with a lot of people trying to help.
Q: So much for coasting toward retirement!
A: I thought this would be a nice easy job compared to managing a $20 million software project. What could be hard about this? Toward the end there, it was nerve-wracking!
Q: Are you still on MDC's board of directors?
A: I came back on the board about two years after I left. I even served as board chair for a while. Right now, I'm volunteering at MDC in other ways.
Q: What kind of volunteer work are you doing now?
A: I volunteer with the S.W.A.T. team once a month to work on the grounds at the center. We clean the grounds, mulch, pick up trash and do whatever is needed. I'm volunteering this year with the Plein Air Paint Out.
Q: How important are volunteers to nonprofits like MDC?
A: It varies from one organization to another, but the way you build community support is through your volunteers. You have volunteer board members who are out there with the movers and shakers of the community, trying to get them to help. Eventually, it builds willingness on the part of various elements of the community to donate money. Without volunteers and strong volunteer support, you're just never going to amount to anything.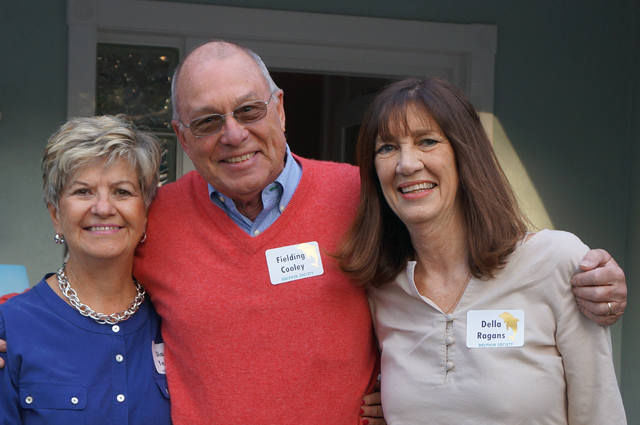 Q: Regardless of organization size, are volunteers that common bond in building community connection?
A: Unless you are a nonprofit organization that inherited a whole lot of money, it seems you have to start out as a volunteer organization. There are also connections to the organization through various ways, such as the marsh restoration project and construction of the amphitheater. Obviously, Covid has put a damper on how we can use that facility for a while, but I see educational potential for the amphitheater to become a huge community draw with a built-in, year-long program that generates revenue, just like the boat tours.
Q: Final thoughts about volunteerism at MDC?
A: In describing the culture of the volunteer board here and how it has evolved over time, I think it's interesting to remember that volunteering is not just cleaning up the grounds or volunteering for an event or working at the Welcome Desk. The board consists of people who have volunteered a lot of their time. They are volunteers, too, and without them, we would not have been able to do what we have done.