People often confuse Marine Discovery Center (MDC) with Marine Science Center (MSC). Now, these two beneficial centers are teaming up for a special tour offering!
Join MDC for an exploration of Ponce Inlet and the northern-most waters of the Indian River Lagoon aboard our 40-passenger pontoon boat, Discovery, this July 24th and 31st.
MDC and MSC have long been confused in the minds of many. Staff and volunteers at both facilities often get questions from guests regarding the confusion, so we're all used to explaining the differences.  Marine Science Center is a Volusia County facility in Ponce Inlet dedicated to the rehabilitation of seabirds and sea turtles.  Marine Discovery Center is a 501(c)3 non-profit in New Smyrna Beach with the mission of protecting and restoring the Indian River Lagoon.  While both places are very different in structure and purpose, they share a passion for helping our environment and educating visitors and locals about our coastal ecosystems.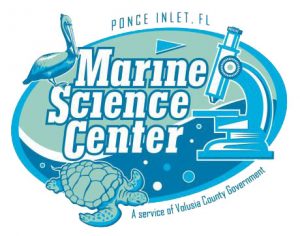 MDC and MSC have often worked together on projects, events, and education programs, and we're excited to announce a new collaboration in the form of a special boat tour: Ponce Inlet Discovery Tour!
This special one-hour ecotour especially for guests of the Marine Science Center will depart from the Ponce Inlet boat ramp near Lighthouse Park and take a journey to discover the plants and animals of the Lagoon. Our expert naturalist guides will educate and entertain as you cruise the waters in search of dolphins, manatees, sea turtles, birds, and much more.
The Ponce Inlet Discovery Tour will take place from 11:00 am – 12:00 pm on Wednesday, July 24 and Wednesday, July 31.  Cost for the tour is $15 per person (children 2 and under are free).  Seating is limited to 40 passengers, so be sure to book your spot early.
To book in advance, call Marine Discovery Center at 386.428.4828 or use the Book Now button below. You can also pay on the day of the tour as MDC representatives will be stationed at the Marine Science Center to take reservations and payment.  To board the boat, meet at the Lighthouse Park Boat Ramp at 4950 S Peninsula Drive in Ponce Inlet prior to departure time OR meet our MDC staff member at Marine Science Center at 10:45 on the tour date to walk down to the boat as a group.