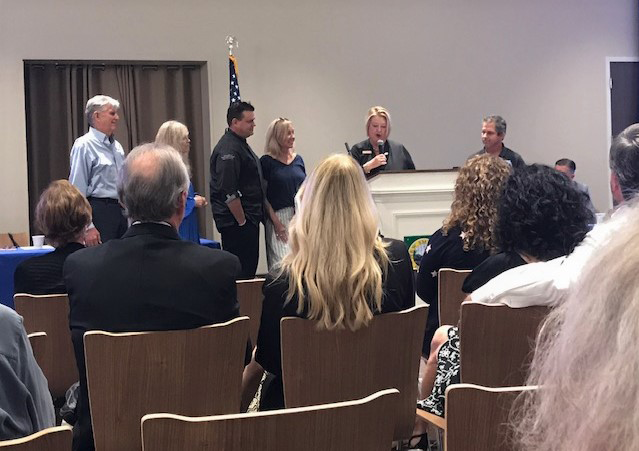 Deb Denys reads the Volusia County Proclamation for "Blue Community Consortium Day"
by Lisa D. Mickey
News Release
NEW SMYRNA BEACH, Fla., July 1, 2020 – The Marine Discovery Center and its leadership have been recent recipients of several honors, awards and a new board appointment.
The accolades began last fall with a Volusia County Proclamation on "Blue Community Consortium Day," a global program in which MDC participates on the local level within New Smyrna Beach. MDC was recognized by the county for its initiatives in global sustainable tourism and for taking part in developing sustainability management plans.
Earlier this year, the coastal nature center additionally received the 2020 Sustainable Tourism Champion Award from the New Smyrna Beach Area Visitors Bureau.
"We are going to have visitors and tourism, and we are going to impact our environment, so what can we do to look at how we can lessen that impact with sustainable practices?" said MDC Executive Director Chad Truxall.
"I believe we can help our community understand the value of reducing plastics while also saving money," he added. "For example, if I get a takeout food order, now I'm being asked if I need utensils, rather than just having them thrown into a bag."
MDC was also honored by Stetson University this spring when the university presented its 2020 Community Engagement Awards and nominated MDC for its Community Partner of the Year Award.
The Stetson award is presented to an agency that has collaborated with the university to provide "significant opportunities for student learning through community impact." MDC enables student interns to gain hands-on experience in many areas at the center throughout the year.
"The awards that are earned by the Marine Discovery Center and its staff are a reflection of our contribution to this community, as well as recognition of professional competence for those who are recognized," said MDC Board Chairman, Dr. Ken Nusbaum
"These awards build our MDC currency locally, within Florida and the Florida Fish and Wildlife Conservation Commission, and in the national and international community of nature center professionals," Nusbaum added. "The recognition enables us to continue our work with the University of Central Florida, Stetson University, Daytona State University, Bethune Cookman University and the National Estuaries Program."
In addition, MDC's Truxall has been appointed to serve on the national board of the Association of Nature Center Administrators (ANCA), starting immediately. The former high school science teacher turned to ANCA for guidance when he was appointed to lead the nonprofit center in 2011. He has helped organize ANCA's regional meetings for the last five years.
"ANCA is an international organization and for MDC, it means that our organization and our best practices have been recognized in Florida, as well as nationally and internationally," Truxall said.
"They see what we are doing here and having us represented on their board can hopefully benefit all ANCA members," Truxall added. "For MDC to have a chance to be recognized in an international spotlight takes our center to a larger stage among top nature centers throughout the nation and around the world."