It was long thought that American flamingos were a species you could only see in a zoo, the Yucatan Peninsula or in The Everglades if you were really lucky.
As it turns out, when Hurricane Idalia hit the west coast of Florida in late August, a natural event occurred, raining down windswept and off-track flamingos from the skies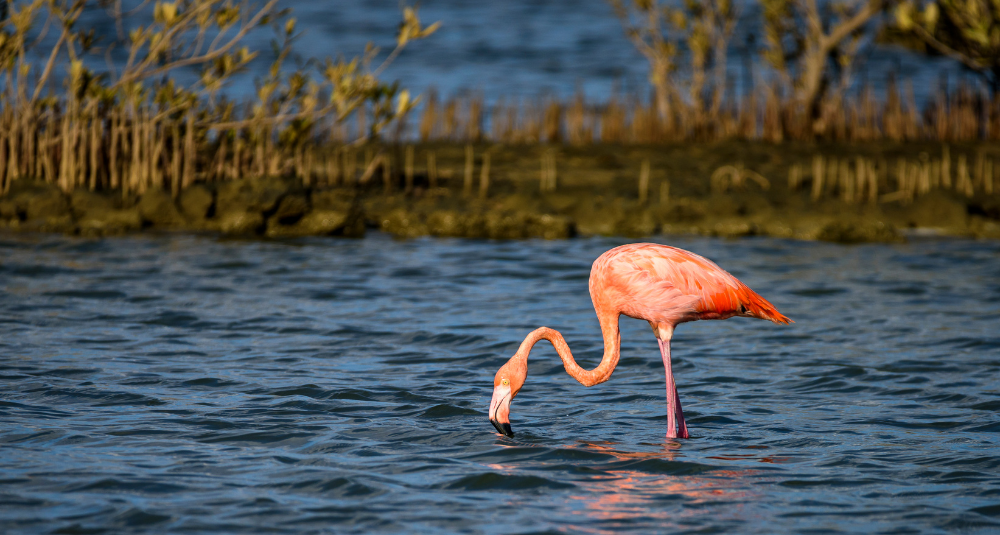 Called a "fallout," these unique coral-colored birds ended up in states far from Florida, thanks to the tropical storm. Reports of flamingos foraging in waters spanning from Pennsylvania, Michigan, Ohio and the Carolinas to Tennessee, Texas, Alabama and Virginia have attracted throngs of onlookers, avid birders and media outlets from around the world.
And truly, it's not every day when an American flamingo (Phoenicopterus ruber) stands on one leg and thrills residents of the Great Lakes states. For that matter, it's not every day that these birds would glide down into Canaveral National Seashore to explore the waters of the Indian River Lagoon.
That has, indeed, been the case in late September when locals have thrilled at the sight of American flamingos in our national park. A group of 12 were spotted in the lagoon to the west of Parking Lot 5 in Canaveral on Sept. 25. A "flamboyance" – or flock – of 10 adults and two juveniles hung out on a sandbar alongside a small group of brown pelicans, thrilling birders lined up with spotting scopes from the adjacent shoreline.
A cultural icon in Florida, as seen on Florida Lottery tickets and whimsical plastic yard art, American flamingos were long considered escapees from captivity. Scientists have argued for at least a century about the origin of these birds or their historical baselines as native species.
Historical evidence has revealed large populations of flamingos in Florida dating back to the 19th century, as well as their near demise during the plume trade of the late 1800s and early 1900s. One recent published academic paper notes that collected data from 1950-2015 "reveal dispersal from a breeding colony in Yucatan, Mexico to Florida."
The same paper notes that recent population increases in Florida "are best explained by immigration from expanding nesting populations in the Caribbean, rather than increased numbers of escaped individuals" from captive colonies.
And the question of their status as Florida native species has also been debated, largely because of their long-term absence in other than captive breeding colonies in South Florida.
Florida's Fish and Wildlife Conservation Commission (FWC) considers flamingos native to Florida and cites on its website that these birds are protected under the Federal Migratory Bird Treaty Act.
FWC has observed that "at least some American flamingos in Florida have arrived on their own from outside of the state," which provides hope that the flamboyance you might see in a waterbody near you becomes a fantastic sight you may see again soon and more often.