By Lisa D. Mickey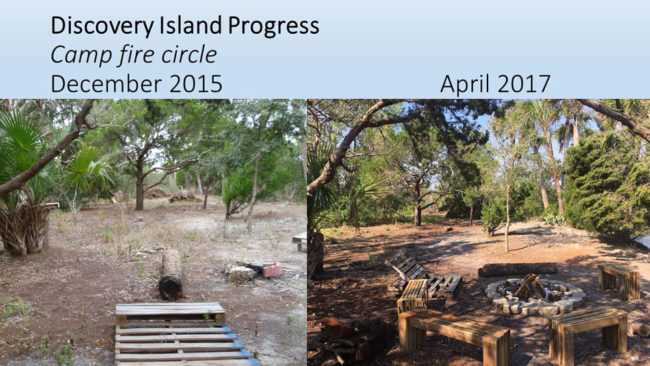 Visiting Discovery Island will give youngsters in the Marine Discovery Center's summer camps and educational programs a sense of being far, far away, yet just around the corner.
The island is actually an old spoil island created as a result of dredging that occurred back when the state dug ditches to help control salt-marsh mosquito breeding. Spoil islands are the resulting small land masses of sand and soil excavated during dredging which have, over the years, become new habitats.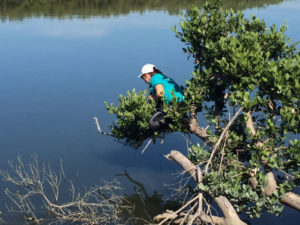 Discovery Island is literally located around the southwest corner by kayak from the center's Mosquito Lagoon Marine Enhancement Center marsh and living shoreline — the former 22-acre site previously occupied by New Smyrna Beach High School. That site was reclaimed in 2014 for education and restoration, and now showcases 5.5 acres of the former high school campus that has been restored back to a tidal salt-marsh habitat.
Using the same grant funding provided by the Florida Fish and Wildlife Conservation Commission and the U.S. Fish and Wildlife Service, Discovery Island has benefitted from a variety of different physical enhancements to help serve as an off-campus learning site for kids. The outdoor classroom of Discovery Island gives youngsters the opportunity to kayak from the center to the island to explore native flora and fauna.
In fact, summer campers will visit the Discovery Island for the first time next week, upholding the center's efforts to provide "hands-on, feet-wet" educational programs.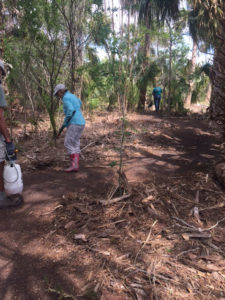 "It's a change of scenery from our property at the Marine Discovery Center," said Erica Edmonston, education and restoration specialist at the center. "And going there requires the campers to kayak over, so it gets kids on the water. Once they're there, it will be an exciting new place for them to look around and explore."
While Discovery Island will be used by the center in its educational programming, the spoil island is also a public-use island. Campers, anglers and kayakers have used the island for years, but recent enhancements undertaken by a crew of MDC volunteers have helped clean up the island and better control shoreline erosion.
New plantings of native species were undertaken on the island earlier this year, with the addition of new mangrove trees, as well as native sea purslane, sea oxeye daisy, Indian blanket flower, dune sunflower, Muhly grass and at least two different spartina cord grasses. Volunteers also helped clear the island of invasive Brazilian pepper plants in early spring.
Native vegetation surrounding an outdoor nature classroom area on the island includes such species as sea grape, dwarf yaupon holly and shiny-leaf wild coffee.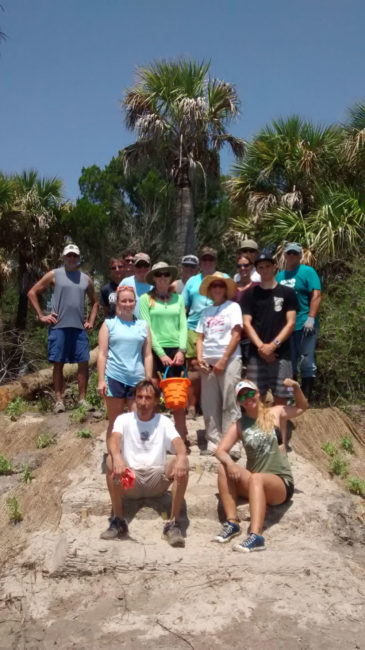 Entrance slopes onto the island were also regraded for both stabilization and aesthetic purposes. This effort has provided a way to control access onto the site to reduce erosive impacts from foot traffic, while also creating a designated path of entry for visitors to the island. Recycled concrete steps were used to create stairs from the shoreline onto the island.
In addition, trails were created on the island for plant walks. Volunteers also created a plant-identification game that will be incorporated into educational activities for the campers.
"We can teach them about native versus non-native plants, as well as edibles versus non-edible plants," added Edmonston. "The kids will also be able to learn about how plants impact a habitat or how spoil islands form."
A campfire circle was already in place on the island, but a fire pit was created earlier this year for improved fire safety. The long-range plan is to create compostable toilets on the island that will enable MDC to bring campers to Discovery Island for overnight visits.
While MDC must share the state-owned property with the public, Edmonston noted that once enhancements were made on the island and it was cleaned of trash and debris, the public seemed to take note. The result has been less trash and more sharing. Someone even left behind a horseshoe game and hammock hooks that can also be used by the MDC campers.
"We found that once people realized we were taking care of the island, the trash became more contained," she said. "They're doing a better job of keeping the island clean."
While youngsters in MDC's summer camps and educational programs will largely benefit from the work done on Discovery Island, the center's adult volunteers have demonstrated a sense of purpose and dedication in making the site a viable location for learning.
According to Edmonston, 647 volunteers have spent nearly 2,106 hours creating and deploying restoration materials for both Discovery Island and the restored salt marsh since 2014. This includes harvesting and preparing plugs of spartina cord grass, building and deploying oyster bags for shoreline stabilization, installing native plants and removing Brazilian pepper on Discovery Island and throughout the marsh.
A total of 129 citizen scientists helped monitor birds, plants, oyster recruitment and various other species in the marsh and on Discovery Island for nearly 448 hours. In addition, 40 volunteers contributed more than 108 hours specifically for Discovery Island "Enhancement Days," which included cleaning the island of debris, installing plants and performing general maintenance, such as watering new plants, creating trails and removing trash.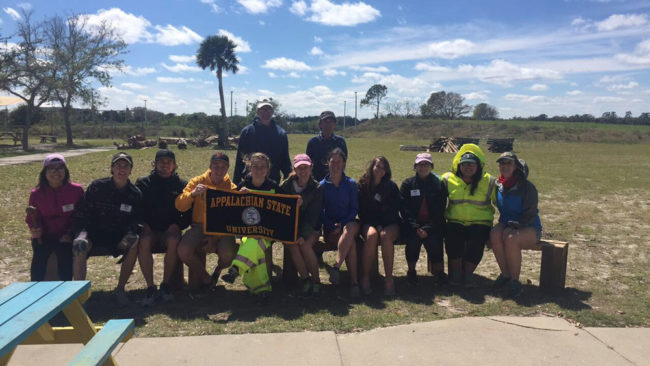 Even visiting college students from Appalachian State University in North Carolina donated time during their spring break this year to build benches on the island that will be used in the outdoor nature classroom.
"Our volunteers have really taken pride in their work on Discovery Island and this site will give kids a chance to experience a whole new ecosystem," said Edmonston.
Literally, considerable blood, sweat and cheers has made Discovery Island possible with many hands contributing to cut, clear, plant and replant the site's native inhabitants.
And when campers land their kayaks on the shores of Discovery Island for the first time next week, it is the hope of MDC's educators that the children's curiosity and sense of adventure will be sparked by their new place to learn.
"It's been cool to be a part of this and to see the project completed," added Edmonston. "And it's going to be a blast for campers to get to see it for the first time."