by Lisa D. Mickey
If you have taken a Living Shoreline Guided Tour to the salt marsh at the Marine Discovery Center this year, chances are likely graduate student Andrea Orozco led your tour.
Orozco has been leading free walking tours around the restored salt marsh since January 2017 as a part of a grant program and partnership between Bethune-Cookman University, the Marine Discovery Center and the Florida Department of Environmental Protection (FDEP) Indian River Lagoon Aquatic Preserve Office.
The native of Mexico came to BCU to play college golf and earned her undergraduate degree in biology in 2015. She stayed at the university for graduate school and will earn her master's degree in integrated environmental science in May 2018.
But while she has been in Central Florida — having moved here from Cancun, Mexico — Orozco has both learned about this region's coastal ecosystem, while teaching others an appreciation for the many species that call this area home.
"I have been telling people about the amazing benefits of these plants and of living shorelines," said Orozco, 24, who was born in Mexico City. "People are always very curious about those fiddler crabs enjoying the shoreline."
"They are also very curious about the oyster bags and mangrove trees," she added. "I always tell them that we planted mainly grasses in the marsh and that we have natural recruitment of mangroves. They are very surprised."
Orozco began working at the Marine Discovery Center as a graduate student in January 2016, and started leading tours a year later. There were very few mangrove trees growing in the salt marsh when she arrived in early 2016, and the grasses were not very tall or filled in.
Since that time, mangrove trees have naturally recruited and seem poised to outcompete the cord grass, which was planted in the salt marsh when it was restored in 2014.
"Now, it's totally different than it was when I started here," she said. "The marsh has grown so much since 2016. It's very peaceful out there and I love seeing all the crabs, birds and new oysters attached to the oyster bags."
While the various species in the marsh prompt conversations with Orozco and her guests, visiting the marsh and its living shoreline exhibit area also has given her an opportunity to talk about other issues affecting coastal ecosystems.
Sometimes, Orozco discusses non-point source pollution, the effects of that pollution in the lagoon and what citizens can do to help reduce it. She also discusses algal blooms in the lagoon, what they are, what causes them, and how they affect the health of the lagoon.
In addition, she addresses "Be Floridian Now" issues involving the local fertilizer ordinance, reducing lawn watering, fertilizer and pesticide application, and even some key tips about mowing and proper disposal of lawn clippings.
"It's always a great feeling to share knowledge with people," she said. "I love the field of environmental science and being out in nature. Sharing that with other people makes me feel good."
Prior to leading the tours, Orozco, whose native language is Spanish, did not have much experience with public speaking. Leading tours for the public was a special challenge.
"As I started leading the tours and also doing some presentations for field trips, I gained more confidence," she said. "I have become much better at delivering the information in a more efficient manner."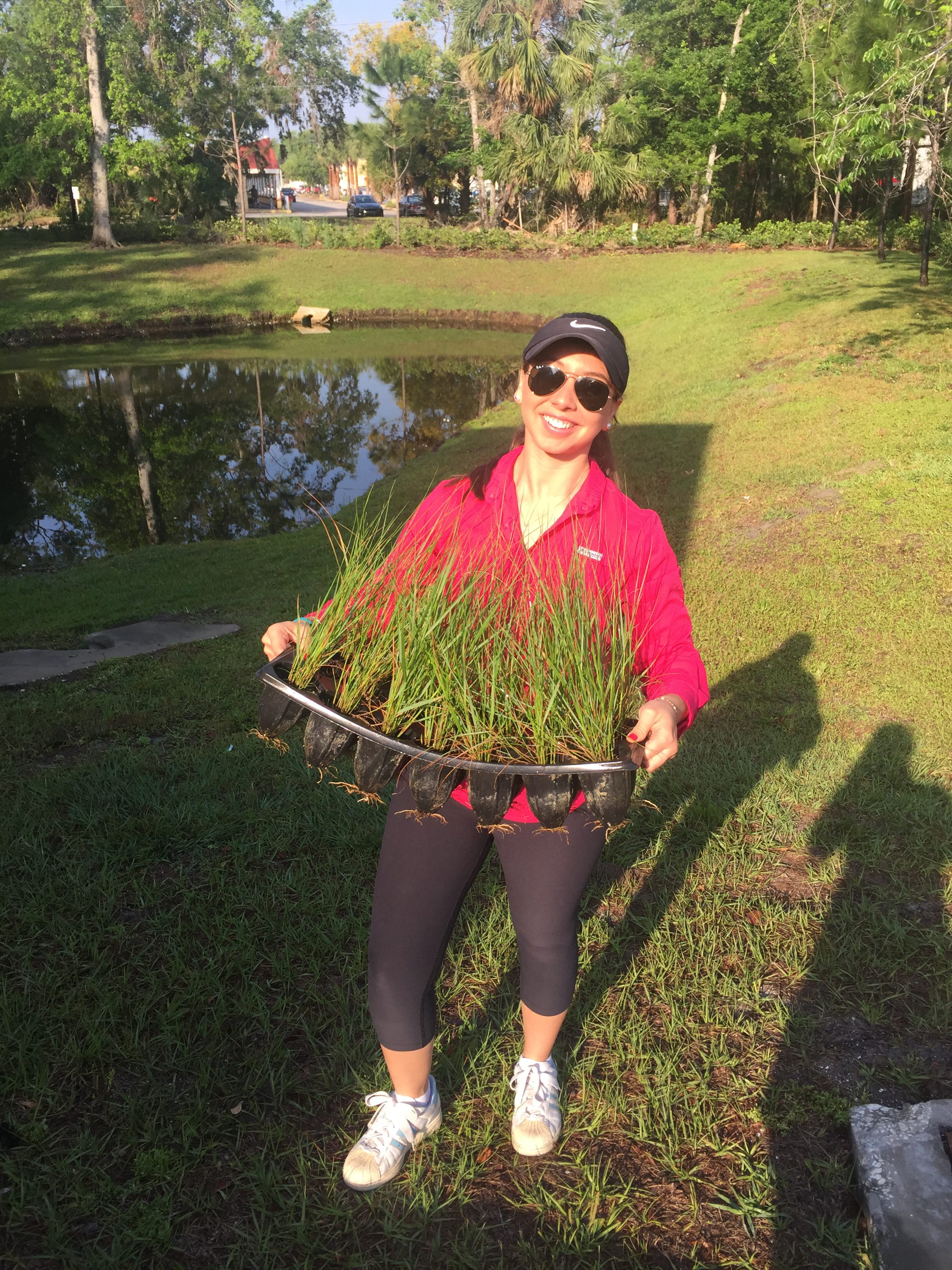 Even with an undergraduate degree in science and more than halfway through her master's studies, Orozco also credits the Coastal Naturalist certification she earned through the Florida Master Naturalist Program — offered at MDC.
"The Coastal Systems course is hands-on and you're actually out in the field looking at things you study," she said. "You cannot get that experience from the classroom. Taking that class was one of the things at MDC that I enjoyed the most and from which I learned the most."
Orozco hopes start her career as a field biologist or a field environmental scientist in coastal ecosystems after she completes her graduate degree next spring. She also hopes to stay in Florida, where she has been "way more exposed to coastal ecosystems" than she ever was back home in the northern tip of the Yucatan Peninsula.
And while Orozco's last day in the grant program at the Marine Discovery Center will be on Nov. 16, the graduate student says she is grateful for the chance to work with the public in the salt marsh this year.
"It has helped me grow as a person, as well as professionally," she said. "And I've kept learning new things every day while being surrounded by very knowledgeable people."