by Lisa D. Mickey
The Marine Discovery Center has launched its Buy-A-Brick Campaign to invite the public to participate in the center's growth.
The non-profit organization will break ground this year on a new amphitheater and is planning for an education center on the MDC campus once occupied by New Smyrna Beach High School. Each of the planned facilities will help continue MDC's mission to protect and restore Florida's coastal and Indian River Lagoon ecosystems through education, research and community stewardship.
The initial run of the brick campaign will run through May 1 July 15, and gives the community a chance to personalize bricks that will be used to form the main stage of the planned amphitheater.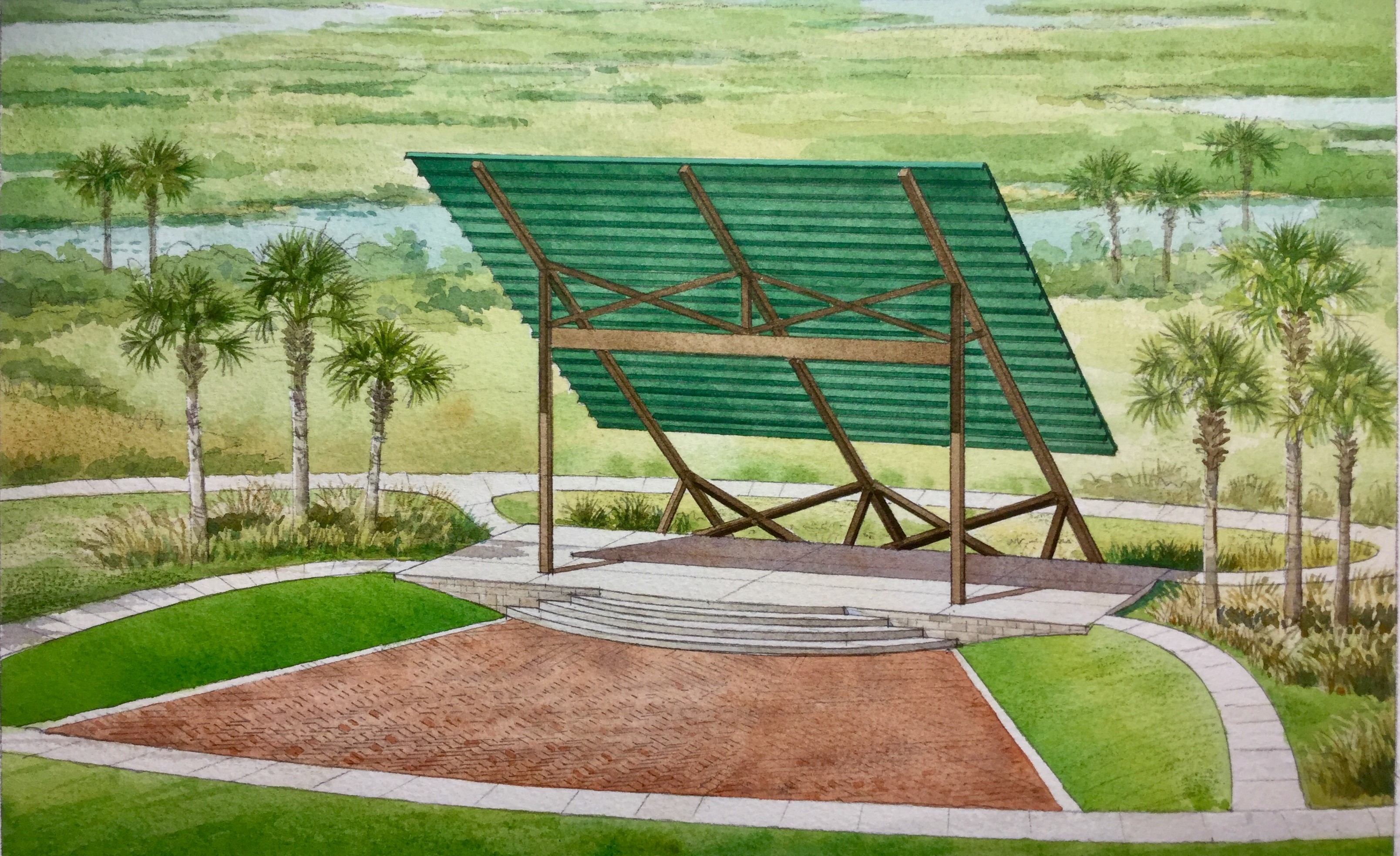 Artist rendering of our amphitheater
MDC Executive Director Chad Truxall notes that it wasn't that long ago when he was volunteering to help build a touch tank and outdoor exhibits for the center at one of MDC's first locations — the city's former water treatment plant.
"We were so proud of the money we raised and the transformation that occurred in the small outdoor place we had at that time," said Truxall. "Now here we are 16 years later, and the Marine Discovery Center is embarking on another transformative project. The 2018 Buy-A-Brick Campaign is an opportunity for citizens to leave their mark at MDC as we begin to develop our Phase II and Phase III development plans."
The center's plans include more of its trademark hands-on, feet-wet programs for children and adults through the construction of an amphitheater, walking trails, establishment of a trailhead for the St. Johns River to Sea Loop, a new kayak launch and storage area, and a future education center, said Truxall.
Phase II will be completed in 2018, with Phase III expected to begin in 2019. Funding from the brick sales will be used to leverage additional support for these projects, Truxall added.
"Each unique brick will serve as a reminder of the great community support that exists to connect our children to nature, and as well as to protect and preserve the Indian River Lagoon," said Truxall.
Bricks are currently on sale at MDC for $40 per brick, $75 for two bricks and $37.50 for each additional brick. Three lines of up to 20 characters and/or marine/nautical clip art may be used for each brick order. Deadline for ordering is May1st.
Brick order sheets for the campaign are available at the Marine Discovery Center or online.
For more information, contact the Marine Discovery Center at 386-428-4828.